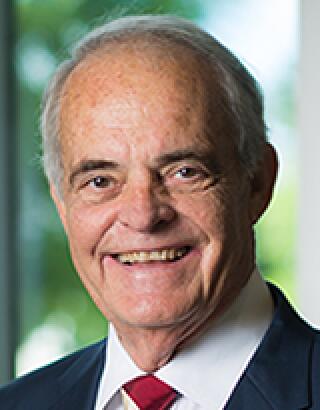 Charles L. McLawhorn, Jr.
Retired Attorney
Post Office Box 8088, Greenville, NC 27835-8088
After a distinguished legal career, Sonny retired from the practice of law at the end of 2020.
Upon receiving his Master of Laws degree in 1977, he founded his law practice in Greenville, NC and then joined Ward and Smith to continue his decades-long commitment to superior client service. Sonny has been a guest speaker at East Carolina University, as well as a lecturer in the School of Business and the Department of Communications. For the past 40 years, he has presented more than 200 programs to various professional organizations and civic groups. A veteran of the Vietnam era, Sonny served in the United States Naval Reserve from 1965 through 1971.
Education
LL.M., Taxation, New York University School of Law
J.D., with Highest Honors, Oklahoma City University School of Law
A.B., Political Science, East Carolina University
Professional and Community Affiliations
Albemarle Bank and Trust Company (local advisory board)
North Carolina Bar Association
North Carolina Foundation for Christian Ministries
About Me
I grew up on a tobacco and dairy farm in the quiet community of Renston, which is now listed on the National Register of Historic Places.
My wife, Lisa, is self-employed as a financial planner, with offices in Greenville, North Carolina. I enjoy studying the Bible, and I have taught Sunday School for 20 years. My oldest daughter is an attorney living in Norman, Oklahoma, and has served as the Commissioner of Labor for the State of Oklahoma. My son is Vice President and General Counsel for Mid-Con Energy Partners, LP, a natural resources company in Tulsa, Oklahoma. My youngest daughter works as an attorney for a Charlotte law firm. She earned her Juris Doctor degree from Campbell University School of Law after graduating from North Carolina State University.