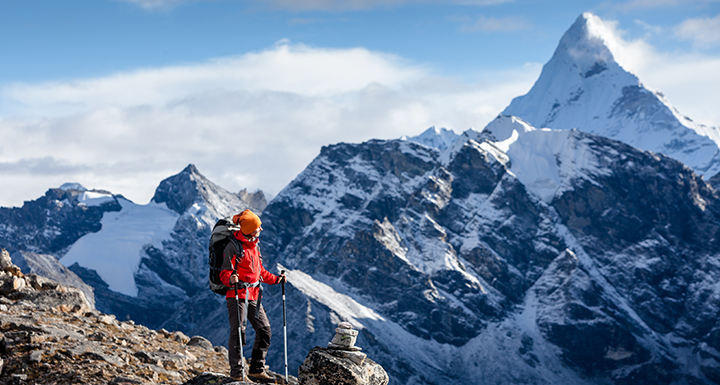 You've realized that braving a government investigation without a lawyer is a bad idea.  So, you need to find a lawyer and you need to find one fast.  But how?  Chances are, you've never hired a lawyer before and it's tough to know where to start.
In that same alternative universe where I spent my summers as a whitewater rafting guide, I would have spent my winters helping people ascend +14,000-foot mountain peaks.  Sadly, following in Jimmy Chin's footsteps wasn't in the cards for me.  But one thing I know about mountain climbing is that your best shot to summit (and, perhaps more importantly, return home) is having a good guide.  In places like Nepal, finding the right guide can mean the difference between life and death. 
Likewise, if you're facing a criminal investigation, finding the right lawyer can make the difference between freedom and prison.
Collecting Information
In some instances the search for a lawyer can be pretty straightforward.  For example, if you get a speeding ticket, your mailbox will overflow with letters from local lawyers who handle dozens of speeding tickets every day.  Any of them is likely to have the skill and experience you need. 
But what if it isn't a speeding ticket?  What if you've received a Civil Investigative Demand letter from the Department of Health and Human Services requesting records related to your business's participation in the Medicaid program?  Or you've been approached by agents from the Environmental Protection Agency, who would like to speak with you about your company's construction project?  Or some agents from the Federal Bureau of Investigation just dropped off a federal grand jury subpoena at your home?  These are different kinds of problems, and you're not going to get a bunch of letters from lawyers offering to help you with them.
Thankfully, you have access to several resources that can help you find the right lawyer.  Here are a few ideas on where to begin:
The lawyer you know

.  There are a lot of lawyers out there, and 95% of them do not specialize in white collar defense.  But, here's the good news: they probably know someone who does.  Or, at a minimum, they know a lawyer who is friends with another lawyer who does.  Put simply, you are probably never more than a couple of degrees of separation from a white collar defense lawyer who is equipped to help you with your problem.

Your friends and family

.  Even if you don't know a lawyer you trust, it is likely that your friends or family members do.  If so, they can get you to point number 1, which is a pretty good place to start.

Online research

.  You're doing it already!  Most lawyers have some level of online presence, which can provide you some basic information about who they are and the kind of work they do.  The web is a great way to collect contact information for several lawyers who appear to focus on the type of problem you are facing.

Television, news paper, phonebook, etc.

Candidly, I think this is the least helpful way to find a lawyer because these sources tend to contain the least amount of information about the lawyer's practice.
It would shock me if you exhausted these resources and still didn't have a few names of folks to talk to (after all, if you're here, you've at least found me).
Making a Choice
The next step in the process is deciding who you should hire.  This is a big deal.  Hiring the right lawyer is like picking the right guide to get you up (and back down) the mountain.  Good lawyers shouldn't take a case they aren't qualified to handle, but it sometimes happens.  Your task is to make sure the lawyer you hire has both the experience and expertise to help solve your problem.  I would recommend setting up phone calls or meetings with at least a couple of options.  These initial conversations are confidential, even if you don't hire that person, and lawyers generally won't charge you for them.
Ideally, you would like to find someone with significant experience handling cases like yours.  If you're going to climb Everest, you should probably find a guide who's done it at least once before.  Having said that, there are over 4,000 federal crimes on the books and the facts of every case are unique, so it's unlikely you'll find someone who has handled a case exactly like yours.  I wouldn't make prior experience with that particular crime a deal breaker.  The more important factors are whether the lawyer has experience with the forum (state or federal court) and the agencies conducting the investigation (IRS, FBI, SBI, TTB, DEA, etc.—you know, the alphabet soup).
You also want to know what resources the lawyer can bring to the case.  Do they have technology that will let them review a large number of documents in a thorough and efficient way?  Do they work with other lawyers with subject matter expertise that may be relevant to your case, like environmental lawyers, or intellectual property lawyers?  While those kinds of resources are not necessary in every case, you need to make sure they're available if they're needed for your case.
To that end, here are a few things you may want to ask any lawyer you speak with:
Have you handled a case like this before?
What is your approach to these kinds of cases?
How long have you handled these kinds of cases, and how did you get into white collar defense?
Where do you typically practice?
Has your work been recognized by your peers?
What concerns you the most about my situation?
Where do we go from here?
The answers to these questions should provide you more than enough information to judge whether this person has the professional skill and experience to handle your case.  Obviously, you want someone with this baseline competence.
But you should also pay close attention to how the lawyer answers these questions.  When you are choosing between multiple well-qualified lawyers, you want to work with someone that is a good fit for you.  There's a pretty good chance you will be spending some of the most stressful and difficult hours of your life with this person.  Are you comfortable with them?  Do they inspire confidence?  If not, then you need to keep searching.
The final subject you will want to cover during these meetings is cost.  Lawyers are expensive—the cost of defending a complex federal investigation can easily exceed $100,000.  But not all lawyers charge their clients the same way. 
Some lawyers charge a flat fee to represent you.  Because white collar cases, particularly in the federal system, vary widely in the amount of work that needs to be done, I typically charge by the hour.  My bills contain an itemized statement detailing the time I've spent working on the case along with a description of the work I was doing for the client during that time.  I prefer this approach because it provides the client with full transparency on what I'm doing and tailors the fees to the scope of work—you only pay for what you need.
It is critical that you understand how your lawyer will charge you, and that the two of you are in agreement about fees from the beginning.  You want your lawyer focused on defending your case, not on conversations with you about costs.
Final Thoughts
You may have noticed that I haven't really talked about lawyers being "good" or "bad."  I certainly believe that some lawyers are better than others.  But, more often than not, the challenge is finding the right fit between the lawyer, the client, and the situation.
Put differently, that guide who has summited Everest five times is a good bet to get you to the top of the world and back.  But if you're making a trip to Alaska to summit Denali, it's nearly certain you're better off with a guide who knows its secrets.  Similarly, you may know the best DWI lawyer in town, but if you've been charged with insider trading, you're going to be much better off with someone who's handled securities fraud cases.  And it's almost certain you don't want your securities fraud lawyer handling a DWI (unless you want to go to jail for a DWI).
I hope these considerations help you to make a thoughtful and informed decision about the lawyer you need to help solve your problem.
--
© 2019 Ward and Smith, P.A. For further information regarding the issues described above, please contact Wes J. Camden.
This article is not intended to give, and should not be relied upon for, legal advice in any particular circumstance or fact situation. No action should be taken in reliance upon the information contained in this article without obtaining the advice of an attorney.
We are your established legal network with offices in Asheville, Greenville, New Bern, Raleigh, and Wilmington, NC.