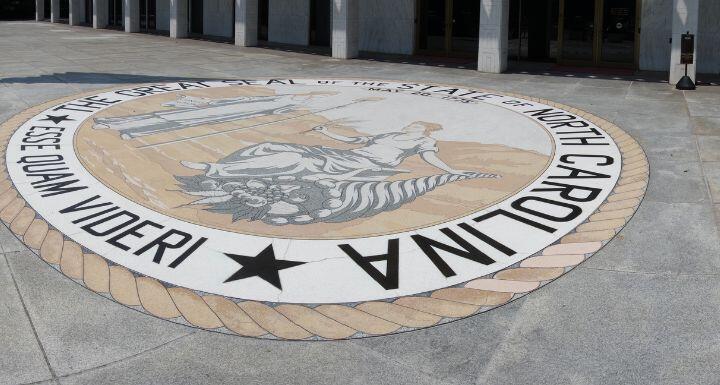 As the clock struck noon in Raleigh on January 11th, lawmakers and their families settled into the House and Senate Chambers at the North Carolina General Assembly to witness history.
In the House of Representatives, Rep. Tim Moore, R-Cleveland, was elected to a record fifth term as Speaker by his colleagues, a stark contrast to the chaos of Washington D.C. weeks earlier that stretched on to fifteen ballots before Kevin McCarthy was elected Speaker. In the Senate, Sen. Phil Berger, R-Rockingham, was also re-nominated to his leadership position as President Pro Tempore, becoming the longest-standing leader of any statehouse chamber in the nation.
Both chambers made quick work of their leadership elections and rules adoptions on the 11th before heading back to their districts that afternoon for a statutorily required two-week break to allow chamber leadership to form committees, assign chairmanships, and other administrative tasks.
Among all of the cordial greetings and photo sessions, members of the House also had to grapple with a significant rule change that could further diminish the power of Governor Cooper's veto pen in the chamber where Republicans are only one vote away from a vetoproof supermajority. That rule change pertains to the process by which veto overrides can be called up by the Speaker for a vote.
Previously, as is still current practice in the State Senate, advance notice to the minority party was required before an override vote could be brought to the floor. Now, those votes can be called up at any time during the daily sessions at the discretion of the Speaker, which means minority party members will have to maintain nearly perfect attendance to continue to uphold Governor Cooper's veto.
While the General Assembly will not begin lawmaking in earnest until January 25th, topics still percolating from the previous session will undoubtedly dominate much of the action on Jones Street this year.
Among the items that did not cross the finish line during the 2021-2022 biennium, Medicaid expansion tops the list as most likely to finally be enacted. Last session, both chambers passed a bill expanding Medicaid, with the House opting for a "clean" bill that only dealt with Medicaid, while the Senate's preferred bill also dealt with a certain subset of Certificate of Need (CON) regulations as well as redefining the scope of practice for some healthcare professionals.
This squabble over additional riders to an otherwise agreeable Medicaid expansion bill led to the eventual collapse of negotiations, marking another year that North Carolina does not join the dozens of other states who have adopted the policy.
Aside from Medicaid, observers of our General Assembly expect the membership to tackle again the issue of legalized sports wagering, which fell just one vote short of passage in the House during the 2022 session, along with a limited but still significant legalization of medical cannabis.
Along with those hot button issues, the General Assembly must also develop and pass a new two-year state budget, a process which usually kicks off with the release of the Governor's proposed budget in early spring.
In recent years, lawmakers have paid close attention to that document in hopes of gleaning the top priorities for the Governor that must be included in the state budget in order to avoid a gubernatorial veto.
That posture has changed now, with Republicans holding a supermajority in the Senate and only one vote away from an override majority in the House. We can expect a more fiscally conservative budget this session, as the majority party continues to exercise fiscal restraint while the state stares down the possibility of an economic downturn and recession, which would undoubtedly affect revenues and an already depleted state employee workforce.
With nearly 25% of each chamber's membership comprised of newly elected officeholders, one can only imagine the vast array of diverse topics that may emerge during this year's session. As always, the Ward and Smith Government Relations team will be engaged with lawmakers throughout the session and will keep you apprised of key developments.
--
© 2023 Ward and Smith, P.A. For further information regarding the issues described above, please contact Trafton P. Dinwiddie.
This article is not intended to give, and should not be relied upon for, legal advice in any particular circumstance or fact situation. No action should be taken in reliance upon the information contained in this article without obtaining the advice of an attorney.
We are your established legal network with offices in Asheville, Greenville, New Bern, Raleigh, and Wilmington, NC.