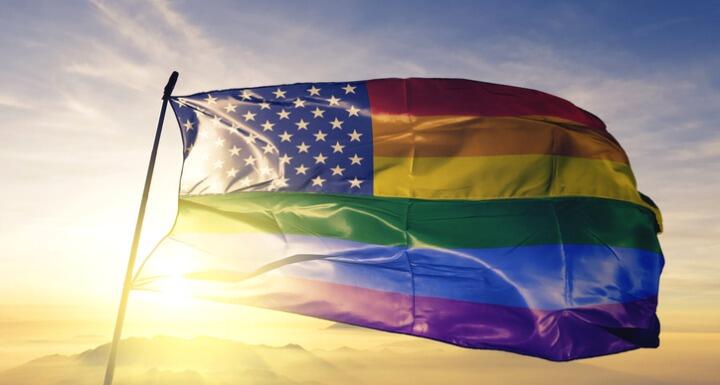 HR Professionals will soon know the answer to this question.
The United States Supreme Court is preparing to settle a contentious debate on employee protections under federal employment discrimination laws. On October 7th, the Court returned from its summer break to start the new term. The Court did not have to wait long before it tackled a complex case because on October 8th, the Court heard two major oral arguments with potentially far-reaching implications for both employers and employees. Both cases focus on the prohibitions in employment discrimination under Title VII of the 1964 Civil Rights Act ("Title VII"). Under Title VII, Congress made it illegal for employers to discriminate against employees on the basis of "race, color, religion, sex, and national origin." The question that the Court will address is whether employment discrimination based on sexual orientation or gender identity is prohibited employment discrimination "because of sex."
The first case the Court heard was a consolidated matter involving cases from the Second Circuit Court of Appeals (Altitude Express Inc. v. Zarda) and the Eleventh Circuit Court of Appeals (Bostock v. Clayton County, Georgia), both of which involve men who claim they were fired from their jobs because of their sexual orientation.
Second Circuit: "Sex" is Necessarily a Factor in Sexual Orientation

The plaintiff in Zarda, Donald Zarda, was a skydiving instructor, who died in 2014. Prior to his death, a female client complained that Zarda inappropriately touched her during a jump. At some point, Zarda communicated to the client that he was a homosexual and "had an ex-husband," a practice that Zarda stated he often did with female clients to put them at ease. Altitude Express terminated Zarda in connection with the complaint; however, Zarda insisted he was fired solely because of his reference to his sexual orientation.
A federal district court granted summary judgment against Zarda, reasoning that his claim was not cognizable under Title VII. However, the Second Circuit reversed, with a majority of the court believing that sexual orientation discrimination is motivated by sex and, therefore, a "subset of sex discrimination." Thus, the Second Circuit concluded that federal law prohibits the firing of an employee on the basis of sexual orientation. Notably, the court reached this conclusion by taking a broad interpretation of the meaning of the text "because of sex." Specifically, the court reasoned that Title VII must protect sexual orientation "because sex is necessarily a factor in sexual orientation."
Eleventh Circuit: Discharge for Homosexuality Not Prohibited by Title VII

The Eleventh Circuit reached the opposite conclusion in Bostock v. Clayton County, Georgia. The plaintiff in Bostock, Gerald Bostock, was a Child Welfare Services Coordinator in Clayton County for over ten years. Although Bostock had received good performance reviews for his work, an internal audit was conducted on his program's funds. Bostock, who is gay, claimed the audit was a "pretext for discrimination against him because of his sexual orientation." During an advisory meeting, where Bostock's supervisor was present, at least one person criticized Bostock's sexual orientation and his participation in a gay softball league.
After his complaint was dismissed at the district court level, Bostock appealed to the Eleventh Circuit. Referring back to a 1979 decision, the Eleventh Circuit reasoned that it had already held that "[d]ischarge for homosexuality is not prohibited by Title VII." While hinting that this earlier ruling may have been wrong, the court held that it had no choice but to follow precedent and affirm the dismissal of Bostock's claim.
Sixth Circuit: Discrimination on the Basis of Transgender and Transitioning Status is Necessarily Discrimination on the Basis of Sex

The second case, Harris Funeral Homes v. EEOC, presents a similar question to Zarda and Bostock. That is, whether employees can be fired based on their status as transgender.
The case involves Aimee Stephens, who was a funeral director and embalmer for R.G. & G.R. Harris Funeral Homes. While working in this position for six years, Stephens dressed and presented herself as a man without issue. However, once Stephens communicated that she wanted to live and work as a woman before having sex-reassignment surgery, she was terminated. The owner of the funeral home, a devout Christian, admitted that Stephens was fired because she "was no longer going to represent himself as a man. He wanted to dress as a woman." The owner believed this change would violate "God's commands."
After Stephens filed a discrimination charge, the Equal Employment Opportunity Commission ("EEOC") pursued a complaint on her behalf against the funeral home. In ruling in favor of the employer, the district court reasoned that transgender status is not a protected trait under Title VII and that the Religious Freedom Restoration Act ("RFRA") precludes the EEOC from enforcing Title VII in this instance as doing so would substantially burden the employer's religious exercise. The Sixth Circuit reversed, holding that "discrimination on the basis of transgender and transitioning status is necessarily discrimination on the basis of sex." The court further ruled that the RFRA did not apply to protect the funeral home's actions because the funeral home was not a "religious institution," and Stephens was not a "ministerial employee" excluded from Title VII's protections.
Stakeholders: States, Federal Government, Employers, and Employees

The Supreme Court's ruling in these cases, which is expected in the spring or summer of 2020, has the potential to be monumental because of the many stakeholders involved. Currently, 21 states and the District of Columbia have barred sexual orientation and gender identity discrimination by statute or regulation, as have a number of counties and municipalities. While a few other states provide protection from this type of discrimination either by agency interpretation or court ruling, the remaining states in the country offer no protection under their state laws. This means that LGBTQ individuals who live in states such as Alabama, Florida, Georgia, Indiana, and even North Carolina (at least with respect to private employers) may have no remedy to this type of employment discrimination outside of Title VII.
Additionally, states who have passed laws in this area may face challenges in enforcing those laws if the Supreme Court decides that Title VII does not protect gay and transgender status. Many of these states lean on the EEOC's authority to investigate claims of discrimination against companies that operate in multiple jurisdictions, and the EEOC has been successful in partnering with states to investigate discrimination claims and enforce such actions. However, states would lose EEOC assistance should the Court decide that Title VII's scope does not extend to sexual orientation or gender identification.
Although the EEOC traditionally has been on the side of expanding Title VII protections, the federal government in the most recent litigation has aligned itself with the employers. In particular, United States Solicitor General Noel Francisco argued that Title VII's prohibition on discrimination "because of sex" does not apply to sexual orientation or gender identity. Accepting this interpretation, Title VII is limited to barring employers from treating women different from men in the same or similar position, and vice-versa.
Equally important to the states' and federal government's interest is the interest of employers. Companies have lined up on both sides of the debate with over 36 briefs filed in support of Bostock and Zarda, and over 24 briefs filed in support of Clayton County and Altitude Express. For example, one brief filed in support of Bostock and Zarda includes 206 companies representing businesses such as Apple, Google, Facebook, Walt Disney, Coca-Cola, and Uber. These businesses argued that interpreting Title VII to "exclude sexual orientation or gender identity from protections against sex discrimination would have wide-ranging, negative consequences for businesses, their employees, and the U.S. economy." In contrast, the C12 group that represents "the largest network of Christian CEOs, business owners, and executives in the United States" filed a separate brief in support of the employers arguing that interpreting "because of sex" in Title VII to include sexual orientation and gender identity ignores the natural meaning of the law, "thereby bypassing the political process, shutting down debate, preventing any accommodation of divergent views, and precluding any compromise."
Makeup of the Court: The Deciding Vote

Prior to his retirement, Justice Anthony Kennedy was the deciding vote in several gay rights cases. However, Justice Kennedy is no longer on the bench, and these cases present the first opportunity for the public to see how his successor, Justice Brett Kavanaugh, will vote on these issues. Also, Justice Neil Gorsuch, successor to Justice Antonin Scalia, may play a key role in deciding these issues. Similar to Scalia, it is believed that Justice Gorsuch is more inclined to rule that courts should naturally interpret statutes as they were meant when enacted. Should Justice Gorsuch hold firm to this view, then there is some thought that he may conclude sexual orientation and gender identity were not meant to be included as discrimination "because of sex" under Title VII. The perspectives of these new Justices are likely to dictate the Court's ultimate decision – a decision which may directly impact the employment landscape for years to come.
--
© 2023 Ward and Smith, P.A. For further information regarding the issues described above, please contact X. Lightfoot.
This article is not intended to give, and should not be relied upon for, legal advice in any particular circumstance or fact situation. No action should be taken in reliance upon the information contained in this article without obtaining the advice of an attorney.
We are your established legal network with offices in Asheville, Greenville, New Bern, Raleigh, and Wilmington, NC.