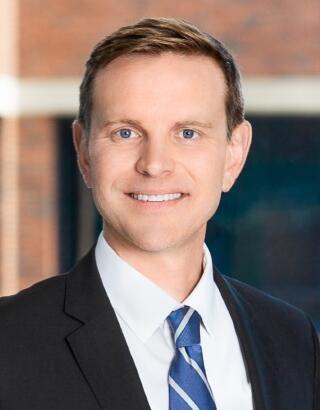 Cameron C. Winfrey
Real Estate Attorney
Cameron serves as a trusted advisor to developers and financial institutions in the acquisition, disposition, leasing, planning, construction and financing of retail developments, mixed-use projects, and office and industrial buildings. He has extensive experience helping clients navigate all aspects of commercial real estate ventures and transactions. He supports clients through the buying, selling, financing, and leasing process of developing commercial property.
In financial transactions, he manages the loan transaction process on behalf of his clients, including the review of due diligence material for borrowers, banks, and private lenders. He draws on his experience as general counsel to facilitate a smooth and successful transaction in the acquisitions and dispositions of domestic and international entities and real estate assets, corporate governance, and banking and financial services regulations.
Education
B.A., Southern Methodist University, 2003
J.D., University of Arkansas School of Law, 2006
Representative Experience
Led 100+ ground-up development acquisitions and ground leases for Fortune 300 client. Services provided in such representation include:

Analyzing preliminary legal and site-specific issues and leading kick-off calls with client and client's consultants (e.g., engineering, construction, signage and environmental) to advise client and consultants on preliminary site-specific issues to be addressed for a successful development project.
Drafting and negotiating purchase agreements and ground leases for each project.
Preparing site updates and leading weekly project update calls with client's real estate and engineering groups to ensure that all legal, real estate, and engineering action items are being addressed in a timely manner.
Analyzing title work, surveys, site investigation reports, site plans, environmental reports, and other site-specific reports, and preparing development memorandums to advise client on issues related to such material (e.g., the viability of planned location for fuel system improvements and access points factoring in the turning radius for commercial vehicles) and establish remaining action items to complete each development project.
Drafting and negotiating development agreements, declarations, reciprocal easement agreements, easements and vendor contracts on a site-specific basis.
Facilitating all aspects of closing.
Advising client on post-closing and construction issues on a site-specific bases.
States and locations of the development projects include: North Carolina (with a focus on the Raleigh metro area), South Carolina (with a focus on the Columbia metro area), Florida (with a focus on the Miami metro area and the panhandle), Colorado (with a focus on the Denver metro area), Texas, Illinois, Georgia, Kentucky, Maryland, Virginia, Tennessee, Kansas, and Utah.
Representation of build-to-suit client in its acquisition, development, leasing, and disposition of 30+ projects in Colorado, Arizona, Nevada, Virginia, New York, New Jersey, Florida, South Carolina, and North Carolina.
Representation of clients in negotiating construction and development agreements in connection with their ground-up development projects
Professional and Community Affiliations
North Carolina Bar
Texas Bar
Arkansas Bar
Urban Land Institute
Admitted to Practice
North Carolina
Texas
Arkansas