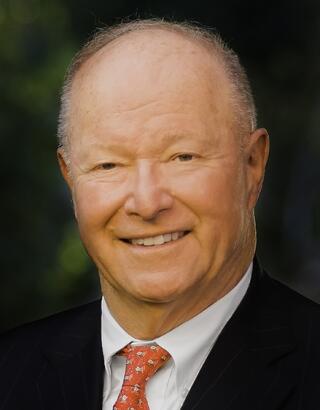 David L. Ward, Jr.
Counsel Emeritus
Post Office Box 867, New Bern, NC 28563-0867
After an outstanding legal career helping businesses and individuals throughout the region, David Ward retired from the practice of law at the end of 2019.

David's practice experience encompassed antitrust, banking, labor, personnel, litigation, trusts and estates, and all phases of business law. He has represented banks, bank holding companies, public housing authorities, and community colleges on a multitude of issues. David was a member of the American Bar Foundation and is the Director Emeritus of the Board of the Research Triangle Foundation of North Carolina. He also served as a Director of the East Carolina University Medical & Health Sciences Foundation. Additionally, he served on the Medlin Commission on the Future of the Courts in North Carolina and chaired its Technology Committee.
Education
J.D., Duke University School of Law, 1962. Editorial Board,

Duke Law Journal

, Vice President, Duke Bar Association.
B.S. in B.A. (Accounting), Phi Beta Kappa, Beta Gamma Sigma, The University of North Carolina at Chapel Hill, 1957
Honors and Distinctions*
The Best Lawyers in America

, 1983-2020

BTI Client Service All-Star Team

, 2007 and 2009
"Legal Elite,"

Business North Carolina

, 2002-2003
"Legal Elite,"

Business North Carolina

, Hall of Fame, Corporate Counsel, since 2004
North Carolina Bar Association Hall of Fame, Inducted in 1999
North Carolina Bar Foundation Justice Fund Wall of Honor, 2006
"Super Lawyer,"

North Carolina Super Lawyers

, 2006-2013
"Super Lawyer,"

North Carolina Super Lawyers

, Top 100, 2009



Professional and Community Affiliations
American College of Trust and Estate Counsel
Carolinas Council of Housing, Redevelopment and Codes Officials - past
Christ Episcopal Church (past Senior Warden; past member, Rector Search Committee; Vestry 2017-2020)
Craven County Bar Association (past president, 1973-1974)
Eastern North Carolina Inn of Court
Fourth Circuit Judicial Conference
Greater Raleigh Chamber of Commerce (Regional Transportation Alliance)
North Carolina Bankers Association
North Carolina Bar Association — Division: Senior Lawyers
North Carolina Bar Association — Sections: Antitrust and Complex Business Dispute; Business Law; Corporate Counsel
North Carolina Chamber
United States District Court Magistrate Judge Panel (chair, 2005)
Admitted to Practice
North Carolina, 1962
All state courts in North Carolina
United States Court of Appeals for the Fourth Circuit
United States District Court for the Eastern District of North Carolina
United States Supreme Court
About Me
I was born and grew up in New Bern, North Carolina. My parents were each born and grew up in New Bern. My father was an attorney and a member of the North Carolina Legislature, serving in the House and the Senate, and was speaker of the House in 1939. My grandfather Ward was an attorney in New Bern and served as a Superior Court Judge for this District.
Growing up, I was a very active member of the Boy Scouts where I attained the rank of Eagle, received the God and Country Award, was a member of the Order of the Arrow, and served as a Patrol Leader and Treasurer of the troop.
I have had a number of interesting jobs during my lifetime, beginning during WWII when I delivered newspapers, delivered groceries on a bicycle, and later worked in a bus station as a porter. I served two years in the United States Naval Reserve aboard an "old line" destroyer where I was the Supply and Disbursing Officer. For several summers, I water skied with Dick Pope when he was the National Water Ski Champion in a ski show that performed in Raleigh, Camp Lejeune, and New Bern, North Carolina.
Professionally, I have enjoyed my clients and my work associates. I have had a lot of clients in my time, ranging from individuals with basic legal needs to multibillion dollar financial institutions. I have tried to treat each of them, regardless of size or status, with the mantra that the client's problem was the biggest problem to the client, and that I was engaged to resolve that problem. I have done just about every type of case and matter that can be imagined, from domestic disputes over child custody, to defending hunters accused of fire lighting deer, to prosecuting the docket in criminal court, to defending major antitrust violators, to major sales of soft drink bottlers, to mergers and acquisitions of major financial institutions, and to defending companies against unionization attempts, wherein I won six in one year.
I have served on numerous charitable and educational boards. I believe in hard work, efficient and effective production with superior results, and giving back to the community.
* Please see the following websites for an explanation of the membership standards for the following recognitions: www.bestlawyers.com; businessnc.com/special-sections/legal-elite/; and www.superlawyers.com/north-carolina.