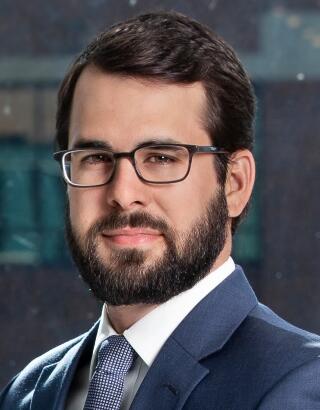 C. Joseph DelPapa
Corporate, Securities, and Tax Attorney
As a corporate, securities, and tax attorney, Joe works with emerging companies and private businesses to develop creative legal strategies to address their legal challenges and achieve their business goals. His mission is to ensure that every client, from start-up companies to international corporations, is on the right path to success.
Joe's practice experience encompasses a broad range of business law issues including structuring and negotiating all aspects of corporate mergers, stock and asset acquisitions, corporate restructures, tax matters, and debt and equity financing transactions. Additionally, he assists clients on joint venture arrangements, divestitures, and liquidations of corporate assets, and consolidation transactions.
Joe has worked on a diverse number of deals across the U.S., U.K., Europe, Asia, and Australia, and regularly advises clients in a broad range of industries, including manufacturing, technology, construction, and healthcare.
Prior to becoming an attorney, Joe was a small business owner and serial entrepreneur. He is a Certified Public Accountant.
Education
Tax LL.M., University of Florida, Levin College of Law, 2021
J.D., cum laude, Corporate and Taxation, University of Florida, Levin College of Law, 2013
B.S., summa cum laude, Accounting, North Carolina State University, 2011
Representative Experience
Joe has represented both closely held and private companies in a range of industries in acquisition transactions including:
Helping a closely-held company in a series of acquisitions consolidating janitorial supply businesses across the U.S.
Assisting a large U.S.-based electronic components manufacturer in the acquisition of wholly-owned subsidiaries of a publicly-traded company located in Mexico, U.K., Germany, China, Austria, India, Romania, and Ukraine
Aiding a publicly-traded Australian company in the acquisition of a freight technology-based platform
Representing a leading manufacturer in the radio and broadcast industry in a series of technology-driven corporate acquisitions across the U.S.
Strategizing the acquisition of 50+ retail stores across the U.S. for a closely-held private equity fund.
Additionally, Joe has represented:
An educational start-up company in a private equity-led capital raise with investors and financial lenders across the U.S. and Asia
A privately-held company in the formation of a joint venture with an industry leading healthcare management company
An energy-based technology emerging growth company in a series of capital raise transactions
A regional real estate development company in a mezzanine financing transaction with a closely-held private equity fund
Honors and Distinctions*
Best Lawyers in America, 2021

* Please see the following websites for an explanation of the membership standards for the following recognitions: www.bestlawyers.com; businessnc.com/special-sections/legal-elite/; and www.superlawyers.com/north-carolina.
Highlights + Insights