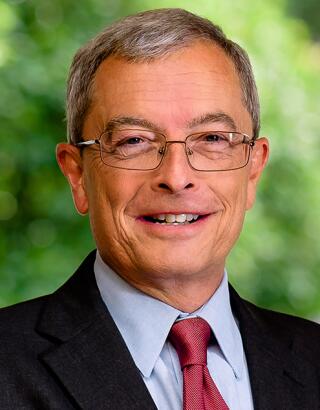 Kenneth R. Wooten
Retired Attorney
After a distinguished legal career, Ken retired from the firm's law practice and his role as Ward and Smith's Co-Managing Director at the end of 2020.
Ken expects to spend time with his family, travel, and eventually, launch a commercial litigation mediation practice. He may be reached at kenwooten726@gmail.com.
Education
J.D., with honors, The University of North Carolina School of Law, 1979.

North Carolina Law Review

, Order of the Coif, Order of Barristers, Invitational Moot Court Team, Holderness Moot Court Bench.
B.A., with high honors, North Carolina State University, 1976
Representative Experience
Represented owner on a public project that involved renovation and some new construction to resolve multiple design and construction deficiencies
Assisted a developer of a condominium complex at the beach in resolving a lawsuit involving allegations of construction deficiencies as well as allegations of overreaching vis a vis the homeowner's association
Served as a mediator and resolved the claims of the general contractor and multiple subcontractors involving unpaid balances and allegations of delay and construction defects
Reported Decisions
Jean v. Collins, 221 F.3d 656 (2000) (en banc), cert. denied, 121 S. Ct. 771 (2001)
Taylor v. McDuffie, 155 F.3d 479 (1998), cert. denied, 1999 U.S. LEXIS 1606 (1999)
Edmundson v. Keesler, 103 F.3d 117 (1996), cert. denied, 1997 U.S. LEXIS 3562 (1997)
Renn by & Through Renn v. Garrison, 100 F.3d 344 (1996)
Taft v. Vines, 83 F.3d 681 (en banc) (1996)
Blount v Wake Elec. Membership Corp., 162 F.R.D. 102 (EDNC 1993)
Washington Housing Authority v. North Carolina Housing Authorities Risk Retention Pool, 130 N.C. App. 279, 502 S.E.2d 626, petition for disc. review denied, 526 S.E.2d 477 (1998)
Hockaday v. Lee, 124 N.C. App. 425, 477 S.E.2d 82 (1996), petition for disc. review denied, 346 N.C. 178, 486 S.E.2d 204 (1997)
Carolina Water Service v. Town of Atlantic Beach, 121 N.C. App. 23, 464 S.E.2d 317 (1995), petition for disc. review denied, 342 N.C. 894, 467 S.E.2d 901 (1996)
Drain v. United Services Life Ins. Co., 85 N.C. App. 174, 354 S.E.2d 269 (1987)
Honors and Distinctions*
The Best Lawyers in America, 2005-2021
"Super Lawyer," North Carolina Super Lawyers, 2006-2020
"Lawyer of the Year," Best Lawyers,2015, 2017-2018
"Legal Elite,"

Business North Carolina

, 2002, 2007, 2009-2014, and 2016

Professional and Community Affiliations
Christian Legal Society
Eastern North Carolina Inn of Court
North Carolina Bar Association — Sections: Construction Law; Law Practice Management; Litigation
North Carolina Biosciences Organization
North Carolina State University, College of Humanities and Social Sciences (board member)
UNC School of Law Alumni Association (prior member, Advancement Committee)
Admitted to Practice
North Carolina, 1979
All state and federal courts in North Carolina
United States Court of Appeals for the Fourth Circuit
United States District Court for the Eastern, Middle, and Western Districts of North Carolina
United State Supreme Court
* Please see the following websites for an explanation of the membership standards for the following recognitions: www.bestlawyers.com; businessnc.com/special-sections/legal-elite/; and www.superlawyers.com/north-carolina.