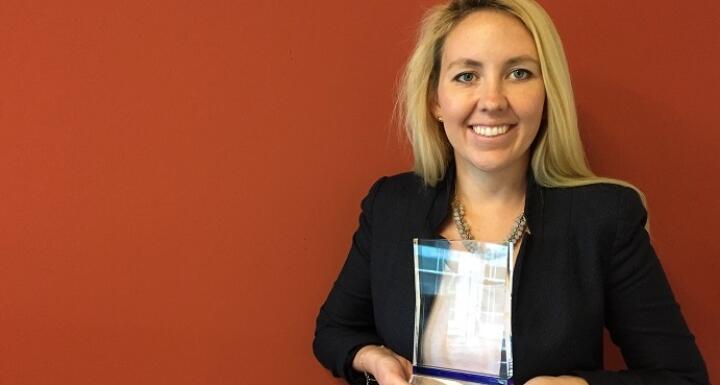 Raleigh government relations attorney Whitney Christensen received Triangle Business Journal's 40 Under 40 Leadership award during a luncheon held today at Raleigh Marriott City Center. Christensen was honored, along with 39 other recipients, for her professional achievements and community contributions. In a special print publication highlighting the honorees, each one provided a hashtag to describe themselves, and Christensen's was #findyourpassion. She also described her proudest accomplishment as being her son, Walker, and her secret talent is to surround herself with people who are smarter and way more capable than she, and making desserts disappear. Read Triangle Business Journal's recap of the luncheon here.
Christensen represents clients before the North Carolina General Assembly. She has experience advocating on behalf of large technology companies, professional associations, manufacturers, restaurants and lodging properties, environmental mitigation providers, military and education nonprofits, and local governments. She has successfully secured state budget provisions and has had legislation introduced and enacted pertaining to business liability, internet privacy and security laws, state and local pension system reforms, vehicle registration, special elections, alcoholic beverage laws, state procurement of information technology, local government purchasing requirements, and 911 dispatch center redundancy. Christensen counsels and represents clients before government bodies in economic development matters.
Christensen also is licensed to practice patent law before the United States Patent and Trademark Office and regularly assists clients with trademark searches and trademark application preparation. She has significant experience reviewing and drafting intellectual property agreements and privacy policies.