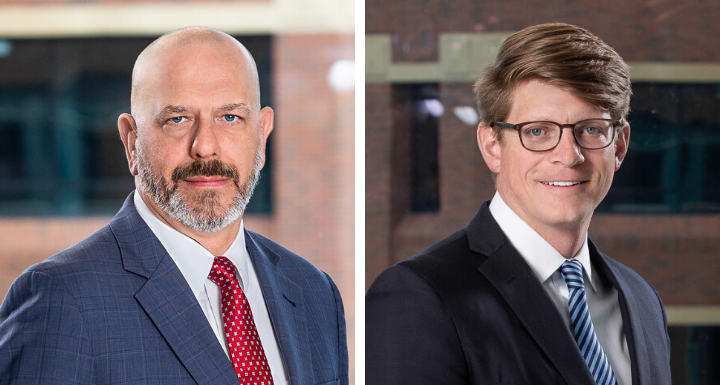 Ward and Smith has new co-chairs of our thriving Construction practice.
Attorneys Bill Durr and Evan Musselwhite succeed construction litigator Jason Strickland, who passed the baton after leading the group through tremendous growth over nearly seven years.
Bill's practice experience encompasses civil litigation in both the state and federal courts. He has represented clients in a wide variety of complex construction, business, and commercial disputes. His civil litigation experience includes depositions, pre-trial and dispositive motions, mediations, arbitrations, jury trials, and appeals. Other areas of his litigation practice include insurance coverage disputes, personal injury, agribusiness litigation, and representation of professional athletes and other high net worth individuals in a variety of family law matters.
Evan is a litigator who works predominantly in the area of construction law. He represents and advises contractors, subcontractors, owners, and design professionals in all stages of the construction and development process. His experience includes drafting and negotiating construction, design, and design/build contracts. Additionally, he represents owners, contractors, and subcontractors in a variety of civil litigation matters.
The construction practice is a large and active group at Ward and Smith. Members routinely speak to industry groups, and serve on several boards and committees.