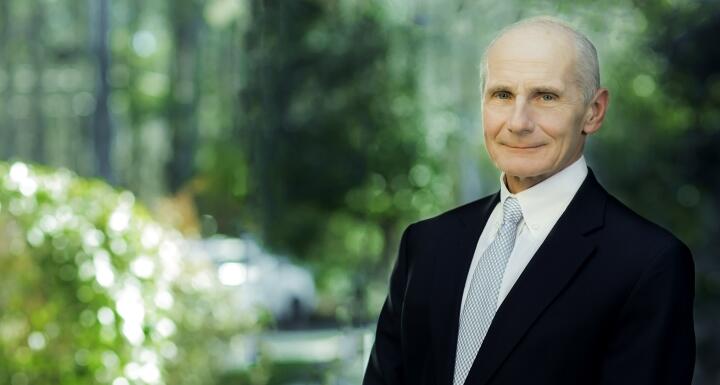 There's no time like the present to starting planning for the future.
It's one of the biggest clichés, but the advice is still relevant to many businesses today. It especially rings true for law firms looking to provide long-term stability to not only their colleagues but also their clients.
In the latest Virtual Roundtable, N.C. Lawyer Weekly asked three transition experts about the importance of creating a succession plan and how to implement it successfully. This article only highlights the responses given by Ward and Smith's business and commercial litigation attorney Don Eglinton.
Is it necessary to have a succession plan in place for a law practice?
Developing and implementing a carefully thought succession plan is critical to the long-term prosperity of all businesses. It is especially important to Ward and Smith. Two of the core values that we, as a group of professionals, share are a collective commitment to put the firm's clients first and an individual commitment to put the firm's and each other's interests ahead of our own interests. To make sure that the firm's clients are served well and rest on deep relationships, we encourage every attorney who establishes a relationship with a client to involve another attorney directly with the client. Additionally, we have a committee that meets confidentially each year with every attorney who is 60 or older and reviews, among other things, the status of relationships with the firm's clients and the attorney's practice plans.
What transition options are available when a lawyer is ready to exit the profession?
Transition from the full-time practice of law is a process. Attorneys who are in a position to make this transition often have had lengthy, distinguished careers practicing law. At Ward and Smith, those attorneys who decide to dial back the intensity of their commitment to practice have a range of transitional options. An attorney can continue either as an employee or contract worker in an of counsel role, or they can simply transition into retirement. These options are not mutually exclusive. Attorneys have the ability to start with one option, then move to another. We work with each attorney to select the most suitable transitional path with the objective of finding the appropriate balance between accommodating the professional and personal interests of the attorney and preserving for the firm the valuable and meaningful continued contributions of the attorney
How can the best transition plan for a practice be determined?
Every law firm and attorney is different. Determining what plan is "good, better or best" on a "one size fits all" basis, therefore, cannot be done. However, a well-conceived transition plan in any context will consider and address in an intentional way a proper succession of organizational leadership, the growth, and preservation of meaningful client relationships, the continuous development of professional bench strength and expertise, and the anticipated transition of senior attorneys from the full-time practice of law.
What steps need to be undertaken in preparation for a practice transition?
This question seems to be directed at the transition of an individual attorney from the full-time practice of law. I currently am chronologically "in the zone," so to speak. I, therefore, answer from my personal perspective.
Time will be needed to make any transition. The process of transition necessarily will take time. I need to understand and accept that it will take time for me to implement and adapt to a "new normal." My watchwords: purposeful and patient.
Attitude is important. An attorney persona has defined me for years. This will change with transition. I need to approach finding my new, somewhat modified, identity in a "glass half-full" way.
Personal relationships are critical. Family and friends add meaning to my life. I need to embrace the richness of transition by nurturing these friendships and developing new ones.
Health matters. Good health is something that often is taken for granted and sometimes ignored. I need to redouble in transition my commitment to my health.
Failing to plan and act is not an option. I cannot know what tomorrow will bring. However, if I continue along the path I now am on without developing and acting on a plan for transition, I almost certainly will lose the opportunity to do things I am interested in doing.
How should the next generation be prepared for a transition?
Transition is not imminent for the next generation. The attorneys in the next generation I practice with and know are well-equipped intellectually, more aware and better informed than past generations, and deeply committed to the practice of law and maintaining balance on their personal lives. I am confident that they will take from their experience lessons that are learned and improve upon the manner in which transition is approached and managed.
How can a firm determine whether acquiring another practice makes sense?
I've not been directly involved with this at Ward and Smith, so I asked Ken Wooten, our firm's Co-Managing Director, to address decision-making around practice acquisition for both lateral attorneys and attorneys transitioning toward retirement. Here are some of the major factors to consider: First, an acquiring firm would want to understand the revenue of the client base over the last three years; the current productivity level of the practice; information about collections and aged accounts; inventory what contingency fee work is outstanding; and what work is currently in progress.
Second, the acquiring firm would want to quickly ascertain whether there are direct client conflicts involved. Additionally, firms would want to consider whether there are indirect or philosophical conflicts such that once a firm is identified with a certain position, clients on the other side of the table would be resistant to coming.
Third, the acquiring firm would want to understand what overhead is associated with the practice. Are leases associated with this transition? What is the current staff cost? What support personnel need to be in place to service those kinds of clients? Does the acquiring firm already have that support personnel or would the firm need to hire the people of the transitioning firm?
Fourth, an acquiring firm would want to be certain the client profile of the transitioning practice matches the ideal client profile for the firm, so there is a compatibility of client mix. Are the client billing rates similar? Is the leverage similar? Does the transitioning attorney's client base desire the new firm's services? Assuming so, how will that correspond to the firm's current excess capacity? Fifth, assuming the attorney is transitioning toward retirement, an acquiring firm will need to consider whether the transitioning attorney wants to continue to practice, and for how long? In many ways, the acquiring firm is depending upon the transitioning lawyer to help with that transition and to actively work to integrate his or her clients to the new firm.
The Virtual Roundtable is sponsored content distributed by North Carolina Lawyers Weekly. You can download the entire article here.