Litigation and white collar criminal defense attorneys Wes Camden and Caitlin Poe joined Ward and Smith today.  They will launch the firm's white collar criminal defense practice, focused on representing companies and individuals involved in government investigations, indictments, allegations of wrongdoing, or corporate fraud or theft.  They will also work with businesses of all sizes, from Fortune 500 companies to family owned enterprises, to conduct internal investigations to uncover issues prior to law enforcement becoming involved.  Camden and Poe join Ward and Smith from Brooks Pierce.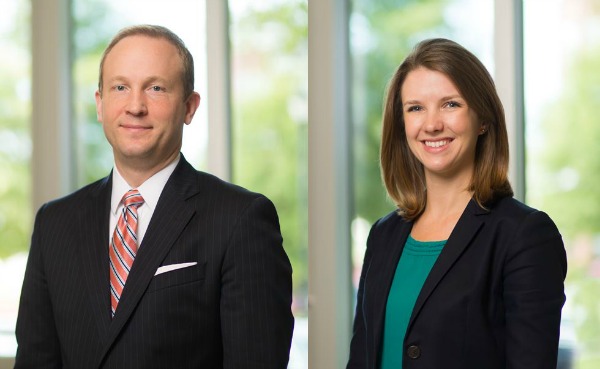 Camden, a former federal prosecutor and a former law clerk to Judge Terrence W. Boyle of the Eastern District of North Carolina, feels his clients benefit from his perspective on how a government investigation develops and the tactics the prosecutors and investigators will likely use to build their case.  Camden commented, "I tell my clients that where you begin your response to a government investigation often dictates where you end.  Generally, the most critical moments in responding to a government investigation are the first ones.  I'm particularly excited to be leading this new area of practice to benefit Ward and Smith's clients.  I'll be 'boots on the ground' when issues arise, and our clients will have the comfort of staying with their preferred law firm."
 
"We, along with everyone else, have witnessed a rise in the number and complexity of government investigations in the business context.  The joke that one could 'indict a ham sandwich' is not that far off the mark," said Ken Wooten, Ward and Smith's Co-Managing Director.  "Wes Camden offers a seasoned, proactive and hands-on approach that is in sync with our firm's methodology in addressing complex matters of long-lasting impact.  He is absolutely the right attorney to lead our new white collar criminal defense practice."
 
Caitlin Poe represents individuals and businesses in government investigations and white collar criminal defense, regulatory matters, and complex civil litigation.  She received her J.D. from the University of Virginia School of Law in 2012, and clerked with Chief Judge James C. Dever, III, in the U.S. District Court for the Eastern District of North Carolina.
 
"We are thrilled that a well-rounded and driven litigator such as Caitlin joined our team," added Bill Durr, leader of Ward and Smith's Litigation Practice Group.  "In today's increasingly aggressive regulatory climate, it is critical for businesses to develop relationships with professionals who relish overcoming challenges and aren't deterred by complex matters.  We know Caitlin and Wes will do great things for our clients."