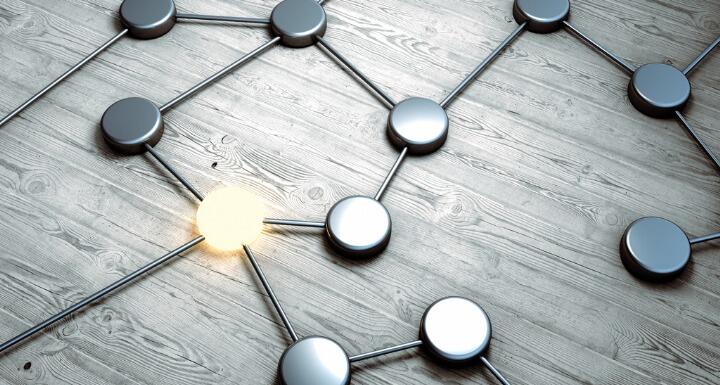 A trio of blockchain experts helped corporate attorneys attending Ward and Smith's 2018 In-House Counsel Seminar understand the ins and outs of blockchain technology.
Ward and Smith attorney Trip Coyne moderated a discussion with three panelists:
David Noble, director of The Peter J. Werth Institute for Entrepreneurship & Innovation Management at the University of Connecticut and Founder of GunClear.
Stephen Rogers, vice president of blockchain initiatives for supply chain industry platforms at IBM, and
Bob Meeks, a patent attorney.
They started by explaining what blockchain — the technology that powers cryptocurrencies such as Bitcoin as well as a growing number of business applications — is.
"I tell my mother that it is an Excel spreadsheet that we all agree is correct or true," Noble said. "We don't necessarily see the entire piece of it, and there's a bunch of fancy math that we have to believe in unless we have a Ph.D. in applied mathematics."
For seminar attendees, it was just as important to understand what barriers organizations face implementing blockchain and what role the general counsel's office could play.
The Collaboration Problem

The biggest challenge for many organizations is that blockchain applications often require cooperating with competitors.
When companies approach IBM looking to conduct a project with blockchain, Rogers said he usually tells them they need three things: a business problem to solve, an existing network of entities that need to work together to solve that problem, and an assurance that the members of the network will all benefit.
That cooperative aspect of blockchain projects is what makes them so difficult for many companies and creates challenges for general counsel involved.
It's easy for a lawyer to start asking questions early that could kill the project, Meeks said. "'Who owns the intellectual property?' 'How do I do this with my competitors?'"
"I would say the biggest hurdle is not the technology," Rogers said. "It's this idea of forming a business network or consortium."
But for many industries, blockchain could solve tough problems. Pharmaceutical manufacturers will be facing a "track and trace" regulatory requirement, in 2023, for which blockchain might be ideal, Noble said.
Noble said that many C-suite leaders want to be "fast followers" — not the first innovators in an industry, but the ones who follow the first innovators after they've proved the potential of a new strategy. But he doesn't think that approach is best for blockchain.
"My doctorate is in strategy, and I really believe you want to be one of the first," he said.
What Blockchain is Good For?

Who within a company is likely to start a blockchain project and for what?
"There is no commonality to who is going to be the champion within the company that is going to do this," Rogers said. "I always look for the guy who has the problem."
Because finance is one of the biggest industries that could be transformed, attorneys working in that field — including trust and estate law — might be well positioned to handle legal oversight.
Blockchain proponents say the technology could radically change how quickly financial transactions are processed.
"What I tell people is when they wave their phone... when they're buying their Starbucks coffee that they think they're transmitting money between themselves and [Starbucks]," Rogers said. "The money won't actually move for three days, and there will probably be five different financial institutions that will be involved."
Blockchain, supporters say, could reduce that transaction time to nearly instantaneous and potentially cut out all of the intermediaries between the buyer and seller.
Blockchain applications could also affect the legal industry more directly: transactions, due diligence, audit, and other matters might be changed significantly due to blockchain applications, including so-called "smart contracts" that seek to encode legal provisions in software. But it won't be easy.
"How do you put into code things like material adverse change, best endeavors, reasonable endeavors, reasonable notice, reasonable steps?" Rogers said. "These are all legal terms that we've come to agree on."
How to Get a Project Done

So how do companies get their blockchain projects started and what constructive role can general counsel play in that?
When blockchain projects are in their infancy, it's important to let them get some momentum.
"You need to know who the deal killers are and aren't, and you need to find the people who are smart and creative and the people that really can do that and start the conversation," Noble said. "But keep the deal killer out of the room for the first week."
Rogers added that it's important to have two groups of people involved: one that understands how the problematic process works now and another that understands why it's a problem.
Because blockchain initiatives often require cooperating with competitors and sharing information outside the company, it can feel uncomfortable to company leaders who aren't used to sharing R&D.
It's really a team sport, and sometimes the general counsel's office can be a good faith referee in that," Rogers said.
Involving attorneys early can help in other ways, too.
"We can probably get the IP protected before you have to talk about all the nitty-gritty with your network members," Meeks said.
Lawyers have other important roles, too. Noble cites GunClear, a start-up he co-founded that stores firearm ownership data on a blockchain, as an example.
"We have more lawyers and lobbyists involved in our process than we do software developers," he said.
For most blockchain projects, though, attorneys need to be comfortable admitting that they don't know everything.
"Be okay with not being the smartest person in the room," Noble said. "That humility will take you a long way. Asking questions will take you a long way toward understanding."
_________________
This is one of a series of articles summarizing key takeaways from Ward and Smith's In-House Counsel Seminar. See additional articles:
--
© 2023 Ward and Smith, P.A. For further information regarding the issues described above, please contact Whitney Campbell Christensen.
This article is not intended to give, and should not be relied upon for, legal advice in any particular circumstance or fact situation. No action should be taken in reliance upon the information contained in this article without obtaining the advice of an attorney.
We are your established legal network with offices in Asheville, Greenville, New Bern, Raleigh, and Wilmington, NC.