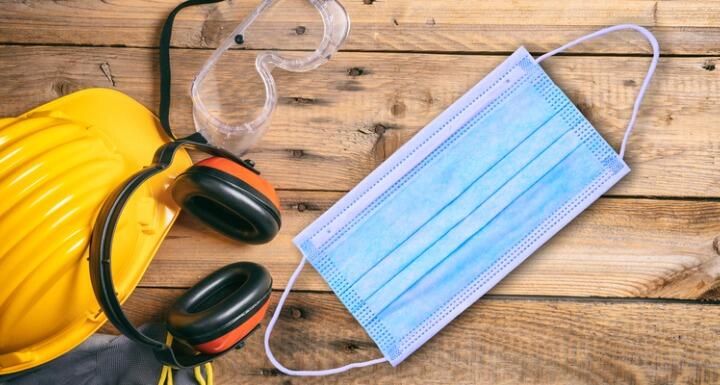 During Ward and Smith's recent virtual "Construction Conference," six of my partners and I covered a range of emerging legal issues — most related to the pandemic — that are important for construction companies.
In a rapid-fire legal update format, we covered how:
COVID-19, and the government's response to it, is changing employment law and contracting
Firms should plan for Paycheck Protection Program loan forgiveness
Employer's Pandemic Response
Ken Gray, who leads the firm's Labor and Employment Practice, noted that the pandemic has disrupted every aspect of our lives — including the workplace.
"COVID-19 has turned our world upside down like no other event that we've ever experienced," he said.
The Families First Coronavirus Response Act, a federal law passed in March, applies to employers with fewer than 500 employees. The law requires employers to give employees up to two weeks of extra paid sick leave (or more), but only for five specific circumstances:
When an employee is subject to a government-mandated quarantine and isolation order (such as a county health department instructing a worker to quarantine)
When a health care provider orders an employee to self-isolate or self-isolate
When an employee is experiencing COVID-19 symptoms and seeking a medical diagnosis for those symptoms
When a worker has to care for someone else, such as a child, who is subject to government or health care provider-ordered isolation or quarantine
When an employee has a child whose usual school or child care arrangements are closed or unavailable
The last situation, where child care is unavailable, can also trigger 10 weeks of paid leave under the Family and Medical Leave Act, Gray said. He noted that even if an employee's request for leave isn't valid, employers can't retaliate against a worker for making the request. Companies can, however, require employees to follow health and safety measures related to the virus, such as wearing a mask or undergoing temperature checks upon entering the workplace.
Regulators are also responding to pandemic concerns. The Equal Employment Opportunity Commission, for example, says employers can ask workers if they experience COVID symptoms or if they've been exposed to anyone who has and can even require negative COVID tests before allowing a sick employee to come back to work.
Some firms have been on the receiving end of OSHA complaints, Gray said, related to the pandemic. Construction companies need to be mindful of worker health — making sure employees have suitable PPE and use it. Sometimes this will require changing procedures, such as reducing the number of workers on a job site to maintain social distancing or even allowing some employees to work from home, if feasible for their jobs.
Contract Challenges
In addition to the health issues, the pandemic has also disrupted the economy. The construction industry is dealing with unusual price increases, especially for lumber, as well as project delays.
Merrill Jones, a business attorney, said that dealing with rapidly increasing prices has become one of the biggest headaches contractors are facing. While rising prices may be unavoidable, contractors can protect their own margins by negotiating clauses in their contracts that spread unexpected cost increases.
He suggested three different strategies for contractors:
Consider an escalation clause that allows contractors to increase the prices they charge project owners if their cost of supplies and materials goes up by a pre-defined percentage.
Create an allowance in the contract for materials, with a provision that passes along any extra costs to the project owner.
Insert an opt-out clause that allows contractors to terminate the agreement, with notice, at their convenience.
Whatever the choice, Jones said the key for contractors is to explain that they can't control cost increases in materials, and they want to ensure the project owner and contractor are both treated fairly.
Delay Provisions
In addition to cost increases, COVID has created project delays for many construction companies. Labor shortages, reduced productivity due to social distancing and other factors can cause unexpected delays, says Evan Musselwhite, a construction litigator.
Here again, contractors should seek flexibility in their contracts to deal with potential delays. He suggests adding provisions for delays beyond the control of the contractor or project owner, and even giving specific examples in the contract of such delays — supplier disruptions, changes to government regulations affecting productivity, and so forth.
Contracts should allow contractors to a client notice of delays and obtain a time extension without creating financial liabilities.
"When you're trying to negotiate these, make it so it's only a time extension, not necessarily getting damages for the delay," Musselwhite said. "That might make it more palatable to an owner."
It's also important to ensure that other documents contractors sign during the course of the project, such as lien waivers, do not negate these contract provisions.
PPP Loans and Forgiveness
I presented with Tom Zamadics on the key impacts of the PPP loans on the construction industry. Hundreds of North Carolina contractors have received six-figure — or bigger — PPP loans. Nationally, the construction industry has been the third-largest sector receiving these government-backed loans.
While the loans have been a lifeline for many companies, we believe that applying for forgiveness as soon as possible is important.
The time from when a bank receives a forgiveness application to when the Small Business Administration finalizes forgiveness can be as long as five months, Zamadics said.
The SBA has stated that any PPP loan can be reviewed for several factors: eligibility, necessity, the calculation of the loan amount, the use of loan proceeds, and the calculation of the loan forgiveness amount. The agency has said it will review all loans over $2 million, however, it has the authority to review any loan.
To make both the application for forgiveness and any potential review, as smooth as possible, we recommend collecting all of the documents you'll need. These documents can include payroll reports, bank statements, detailed records documenting how many full-time equivalent employees a company has, and more.
If the SBA denies forgiveness, borrowers have 30 days to appeal the ruling. While the regulations on PPP loan forgiveness could change, there are no major pending changes right now that should spur companies to delay forgiveness applications.
Avoiding Double Payments to Subs
Luke Tompkins, a commercial litigation attorney, discussed how general contractors can use mechanisms in lien law to avoid double payments — reducing a significant risk at a time when a shaky economy is itself a big risk.
Double payments can arise when a general contractor pays a subcontractor, which then fails to pay a second- or third-tier subcontractor. In those cases, those second and third-tier subs could seek payment from the general contractor via a subrogation lien.
To avoid this risk general contractors should use the notice of contract mechanism available under North Carolina law.
First, within 30 days of a building permit being issued or the general contractor being awarded the prime contract, the general contractor should fill out and post a notice of contract on the project site and file a copy of the notice of contract with the office of the Clerk of Court for the county in which the property is located. This Notice of Contract at the job site should be in a visible, easily accessible location for any subs who visit the site. Tompkins recommends documenting the notice with a time-stamped photo.
This notice shifts responsibilities to subcontractors. To preserve their subrogation rights, subs must mail a notice of subcontract to the general contractor. When the general contractor makes payments to a first-tier subcontractor, they must, within five days, notify any second- or third-tier subs who have submitted a notice of subcontract. A subcontractor is properly notified if notice is personally delivered or if the notice is sent by certified mail, return receipt requested, or by depositing with a "designated delivery service," UPS or Fed Ex for example, and obtaining a delivery receipt. In doing so, the general contractor eliminates any liability they might have for subcontractor payments that don't properly flow through to the second and third-tier subs.
"It may sound burdensome," Tompkins said. "But it's one of those things that, if you incorporate it into your business practices, it becomes second nature."
This article is part of a series summarizing Ward and Smith's 2020 Construction Conference. Read the other article:
--
© 2023 Ward and Smith, P.A. For further information regarding the issues described above, please contact William S. Durr.
This article is not intended to give, and should not be relied upon for, legal advice in any particular circumstance or fact situation. No action should be taken in reliance upon the information contained in this article without obtaining the advice of an attorney.
We are your established legal network with offices in Asheville, Greenville, New Bern, Raleigh, and Wilmington, NC.