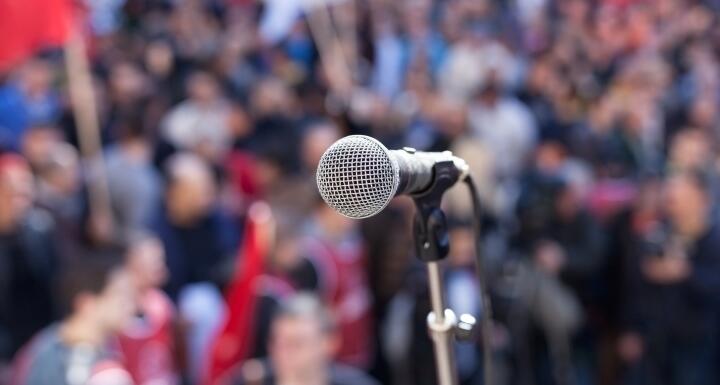 Supreme Court Decides Case on Protected Political Activity in Public Employment
Some of us may have had enough of all things election by now. But the United States Supreme Court decided a case last April that broadens the constitutional protection afforded to public employees terminated or demoted for engaging in political activity. So, if you are a public employee, a public employer, or just a political junkie, read on.
The First Amendment prohibits a government employer from discharging or demoting an employee because the employee supports a particular political candidate. Protected political activities include joining, working for, or contributing to a political party or a candidate. But are public employees still protected if their employer mistakenly thought they were engaged in this protected political activity but they really weren't?
In Heffernan v. City of Paterson, N.J., the Supreme Court answered this question in the affirmative, finding that the employee was protected.
Jeffrey Heffernan was a Paterson, New Jersey police officer who worked in the office of the Chief of Police, James Wittig. In 2005, Paterson's mayor, Jose Torres, was running for reelection against Lawrence Spagnola. Mayor Torres had appointed both Chief Wittig and Heffernan's direct supervisor to their current positions. Heffernan, however, was a good friend of Torres' opponent, Spagnola.
Heffernan's mother, who was bedridden, asked Heffernan to drive to a Spagnola campaign location and pick up a large sign endorsing Spagnola for mayor. Mom wanted to replace a smaller Spagnola sign which had been stolen from her yard. Being a dutiful son, Heffernan picked up the sign and, while there, spoke with Spagnola's campaign manager and staff.
Members of the Paterson police force saw Heffernan talking to the campaign staff and holding the Spagnola sign. Word spread quickly through the force that Heffernan was seen "supporting" Spagnola. The very next day, Heffernan was demoted from detective to patrol officer and assigned to a "walking post" in retaliation for what his supervisors believed was his "overt involvement" in Spagnola's campaign.
Heffernan filed a lawsuit in federal court, claiming that he had been demoted because his employers believed he had engaged in constitutionally protected political speech. The lower courts rejected his claim, finding that a free speech retaliation claim could be maintained only where the employee had actually been exercising his constitutional right to free speech. Here, Heffernan had simply been picking up a sign for his mother, not exercising his right to express support for a candidate whom his boss did not support.
The Supreme Court reversed the lower courts, relying largely on a 1994 Supreme Court decision, Waters v. Churchill, involving the reverse of the facts. In Waters, the public employer dismissed the employee based on its mistaken belief that the employee had engaged in personal gossip when, in fact, the employee's speech concerned matters of public concern and thus was constitutionally protected. The Supreme Court found that the dismissal in Waters did not violate the First Amendment because the employer reasonably believed that the employee's conversation involved only personal matters.
Heffernan's employer mistakenly thought the employee had engaged in protected speech - the opposite of the facts in Waters. Justice Breyer, in a nod to British idioms, held that "what is sauce for the goose is normally sauce for the gander." In other words, the government employer's reason for demoting or discharging an employee and the facts as the employer reasonably understood them are what matters - whether the employee was terminated for not engaging in protected speech when she was (the situation in Waters - no constitutional violation) or whether the employee was terminated for engaging in protected political speech when he wasn't (the situation in Heffernan - constitutional violation).
Here's the take-away from Heffernan: A public or governmental employer may not demote or discharge an employee in an attempt to prevent the employee from engaging in protected political activity - even if the employee was not engaged in that activity and the employer was mistaken as to the facts.
Federal courts in recent months have already begun to allow similar claims to proceed, including:
A lawsuit by an employee of the West Valley City, Utah animal shelter who alleges that she was terminated because city officials believed she had leaked statements to the press concerning matters of public concern even though she denied the leak; and,
A lawsuit by an employee of the Pennsylvania Turnpike Commission who claims he was terminated in retaliation for announcing his candidacy for state senator against a candidate the Commission supported.
Of course, each of these types of cases will depend on the specific facts involved, but Heffernansounds a warning for public employers to be cautious when considering discipline for an employee who has engaged in possibly protected political activity.
--
© 2023 Ward and Smith, P.A. For further information regarding the issues described above, please contact Mary V. Cavanagh.
This article is not intended to give, and should not be relied upon for, legal advice in any particular circumstance or fact situation. No action should be taken in reliance upon the information contained in this article without obtaining the advice of an attorney.
We are your established legal network with offices in Asheville, Greenville, New Bern, Raleigh, and Wilmington, NC.