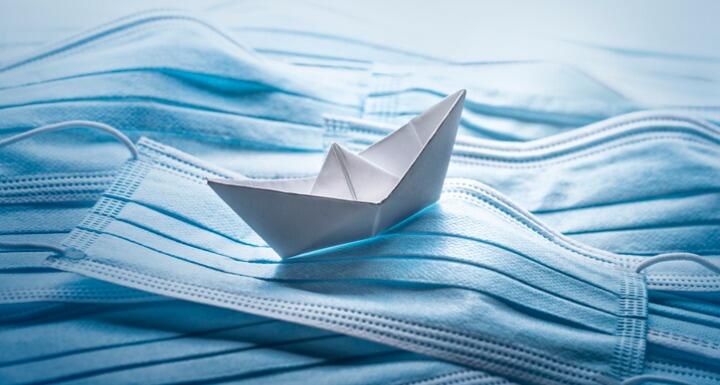 The pandemic and its economic fallout are driving a range of legal and political shifts that businesses will likely face in the coming year, according to three Ward and Smith attorneys presenting during the "Rapid Fire Legal Update" session of the firm's 2020 In-House Counsel Seminar — Virtual Edition.
The pandemic-driven shift to virtual proceedings in litigation — depositions, hearings, mediation, arbitration, and trial taking place partially or entirely via videoconferences — has important implications for corporate counsel involved in those cases, according to Ward and Smith litigator Amy Wooten, who co-chairs the firm's Professional Licensing Practice Group and handles complex construction, commercial and directors and officers litigation, among other issues.
Though virtual proceedings aren't new, Wooten says the pandemic has made their use more commonplace. For in-house counsel, this has implications for legal strategy, how cases are managed, and cost planning.
On the cost-side, virtual proceedings can reduce the need for travel and increase in-house counsels' cost-effective access to proceedings, but may increase preparation time for some virtual proceedings.
Virtual depositions, for example, make it easier for corporate counsel to review key facts and expert witness testimony and better evaluate the strength of their company's legal position.
"It can also give you an opportunity to observe how key corporate witnesses handle testifying," Wooten says.
Virtual depositions raise issues around topics such as witness coaching and exhibit sharing, so companies frequently involved in litigation may want to draft standard stipulations they can ask their litigation counsel to present for consideration, she says.
Virtual Strategies
Virtual court hearings also are starting to affect how companies approach litigation.
One big shift is away from "calendar call" in North Carolina's state courts, where attorneys would gather physically at a courthouse to hear whether or not their cases would be reached that week.
"What we're seeing is hearings are being set for a specific date and a specific time," Wooten says. "In many instances, parties are given fairly strict time limits because the court is often setting up back-to-back hearings."
Judges are also showing up for those hearings better prepared, she says.
"Good briefing has become even more important in this context," Wooten says. Corporate counsel may want to spend more time thinking about the strategy they're using, especially if they plan to withhold documents or be aggressive on how they approach discovery, as they may encounter more attention from judges.
In smaller jurisdictions, Wooten says virtual hearings are creating more opportunities for cases to land in front of the same judge more than once.
"Setting out a good first impression in those cases and making sure you're preserving your capital with that judge is becoming more and more important," she says.
New Mediation Issues
Virtual mediation could create some logistical challenges.
In November 2020, Wooten says, the North Carolina Court of Appeals struck down a trial court decision to enforce a settlement agreement. The appeals court ruled that because the settlement agreement was signed by the attorney for the party against whom enforcement was being pursued, and not by the party itself, it violated the statute of frauds.
For corporate counsel, that means it's critical to work with litigation counsel to have in place a plan to ensure an authorized corporate representative is available to sign the mediated settlement agreement.
When it comes to trials, more proceedings — but not all — are being held virtually. Bench trials and arbitrations have been conducted virtually, but so far she has not heard of virtual jury trials.
"I certainly suspect that would raise some constitutional issues and concerns," she says.
Corporate counsel should consider whether changes are needed to the forum selection clauses of their contracts in light of the proliferation of use of virtual proceedings, Wooten reported. How enforceable those will likely be jurisdiction-dependent.
Given the potential cost savings and increased access that virtual proceedings provide, Wooten surmises "we're going to continue to see virtual litigation above pre-COVID levels with more and more selectivity to what's going to occur in person. I also suspect there will be greater receptivity by our courts to having proceedings conducted virtually."
Bankruptcies Could Rise
While COVID has affected many aspects of law and business, "The bankruptcy court is wide open and doing business as it always has been," says Paul Fanning, a Board Certified Specialist in Business and Consumer Bankruptcy Law who leads Ward and Smith's Creditors' Rights practice.
That doesn't mean that the bankruptcy landscape won't be changed by the pandemic.
In February, before the pandemic, a new process for Chapter 11, subchapter 5 bankruptcies was put in place to make bankruptcy cheaper and more efficient for small businesses. The CARES Act expanded the amount of debt that could be covered in those cases from $2.7 million to $7.5 million, at least through the end of March 2021, Fanning says.
Per Fanning, "The experts and the newspapers all expect a spike in bankruptcy cases. COVID is not going to slow down the process and you need to be ready for it."
Companies need to be prepared in case their vendors or customers file bankruptcy. And preparing, Fanning says, starts with watching for signs of financial distress.
"You've got to be proactive in dealing with problems with your customers," he says. "If not, you'll lose your place in line."
Tuning into Customer and Vendor Issues
Watching for shifts in behavior — changes in purchasing and payment patterns, submitting layoffs, changes in senior management, or the hiring of a chief financial officer or chief restructuring officer — allows companies to potentially get ahead of bankruptcy troubles.
If one of your customers may be facing bankruptcy, then companies should assess that relationship.
"Many companies make it through stressful times without filing for bankruptcy," Fanning says. "The question for you is whether you want to be a part of it."
During the last recession, he says, Ward and Smith had many clients that experienced financial distress. The firm chose to be a team player with those companies, building strong relationships with them that endured after they recovered.
Companies should evaluate the contracts they have with financially distressed customers and vendors, including payment terms. In some cases, it may be advantageous to renegotiate these contracts with new terms that reduce your risk.
If a company you're doing business with does file for bankruptcy, there are specific dos and don'ts to protect your interests. Fanning notes that bankruptcy court involves multiple strict deadlines and automatic changes in what kinds of debt collection activities any company can engage in.
"You need to exercise your rights and you need to, in a lot of cases, hire counsel that is knowledgeable about the bankruptcy court in order to assert those rights, or they will be lost," Fanning warns.
For example, when a bankruptcy is filed, dividing your accounts with a debtor between pre-bankruptcy and post-bankruptcy is a good idea. Often, post-bankruptcy claims are treated with a higher priority.
"The bankruptcy process is designed to be consensual in nature. It's designed so the debtor is working with its partners, its creditors," Fanning says. "Negotiations are important and how those negotiations are carried out and implemented really makes a big difference."
The Political Landscape
Negotiation is also likely to be critical at the state and federal level in 2021, says Mike McIntyre, Senior Advisor for Government Relations and Economic Development at Ward and Smith and a former Member of Congress.
Though voter turnout reached an all-time high in the November elections — more than 75% of registered voters cast ballots —North Carolina's overall political dynamics haven't shifted greatly.
Gov. Roy Cooper won by a comfortable margin, while the GOP maintained its control over the North Carolina Legislature, despite concerted efforts by Democrats to win a majority in the state Senate.
But the Republican majority in the two statehouse chambers isn't large enough to override vetoes from Cooper, McIntyre says, which makes negotiation much more likely to be needed.
In appellate court races, Republicans swept every contested race.
Nationally, McIntyre says, the path to a Joe Biden-Kamala Harris administration seems clear. Assuming no surprises at the state level, electoral ballots will be counted in a Joint Session of Congress in January. In order for any state's electoral votes to be thrown out, at least one member from each chamber must object, and then both chambers must vote to overturn the results.
But with a Democratic majority in the U.S. House, McIntyre says, that seems unlikely. "It would probably have to be pretty egregious for that to happen," he says.
In 2021, Congress is likely to face many of the same issues the country has grappled with in 2020, including COVID-19, racial justice, climate change, the economy, health care, employer-employee relationships, rural broadband, paid sick leave, economic disparities between rural and urban areas, and more.
Control of the U.S. Senate is still in question — a run-off election in Georgia will decide both of that state's U.S. Senate seats, and Democrats would have to win both of them to have a razor-thin majority — 50 votes plus Kamala Harris' tie-breaker vote as the presumptive vice president.
Which means that in Washington, just as in Raleigh, negotiation will take center stage.
"The real estate of the common ground is so valuable that there will be a lot of negotiation over what will be built upon that common ground," McIntyre says. "That's what makes politics interesting."
--
© 2021 Ward and Smith, P.A. For further information regarding the issues described above, please contact Michael E. Kohagen.
This article is not intended to give, and should not be relied upon for, legal advice in any particular circumstance or fact situation. No action should be taken in reliance upon the information contained in this article without obtaining the advice of an attorney.
We are your established legal network with offices in Asheville, Greenville, New Bern, Raleigh, and Wilmington, NC.