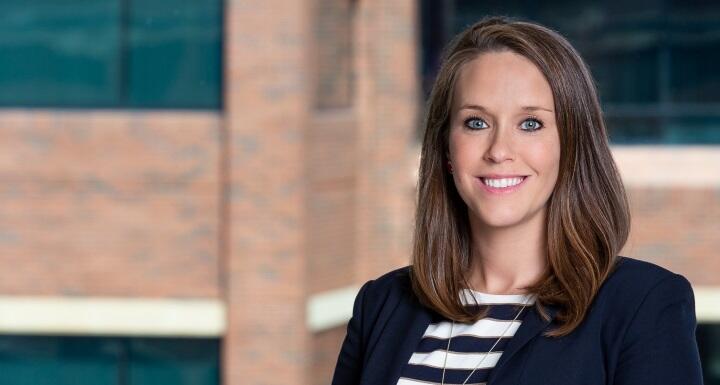 Raleigh-based labor and employment attorney Devon Williams will assume a key leadership role at Ward and Smith at the end of 2020.
Devon was recently elected to the position of Co-Managing Director-Elect. She will lead the firm alongside Greenville-based litigator Brad Evans, who has served in this position since 2017. Most law firms have one Managing Partner, and Ward and Smith has always had two Co-Managing Directors. "We believe two heads are better than one," quipped Brad Evans.
Since joining the firm in 2012, Devon has held numerous leadership roles at Ward and Smith, including leading the firm's Labor and Employment Section and co-chairing the Raleigh Geographic Team. She's been recognized in industry publications such as Benchmark Litigation as a "Labor and Employment Star" in 2018 and 2019, and included on Business North Carolina's Legal Elite list for Employment in 2020.
"From the beginning, Devon has displayed strong leadership skills and exceptional talent. She's a true team player, a fierce competitor, and a person just as comfortable with the big picture analysis as she is with the daily needs of a demanding practice. That's why she is so widely respected by her clients, colleagues, and peers," remarked Brad Evans. "It's not surprising that she was elected to this executive position by her peers within the firm. I look forward to working alongside her as we lead the firm into our next phase of growth and innovation."
Devon will assume the position of Co-Managing Director from predecessor Ken Wooten—who has served as a Co-Managing Director since 2005—when he retires from the firm at the end of 2020. Over the next several months, Devon will work closely with Ken and Brad to ensure a smooth transition.
"Succession planning is essential to all businesses, including our own, and choosing a strong leader enables seamless continuity in client service, and maintains stability within the firm," stated Ken Wooten. "I think it says a lot about our firm that we're selecting a millennial leader to take us into the next decade. Devon will bring a unique, and much needed perspective to the perennial concerns of a fully-engaged law firm. While leading Ward and Smith is a big job, I have no doubt that our future is in safe hands with Devon and Brad at the helm."
Calling it a privilege to serve with Brad and honor to have Ken as a mentor during this transition, Devon noted, "Ward and Smith has a different business model, and it's a difference I am passionate about. Many law firms say they function as a team, but we actually do. Our model is different in that we have no originations, no sharp elbows, and are united around the vision that we do what is best for our clients." She continued, "I'm grateful for and enthusiastic about the opportunity to build upon the legacy the firm has experienced under Ken's leadership while working in tandem with Brad to continue our efforts to innovate efficient legal solutions for our clients, and attract and retain top-tier talent."
Devon will maintain her labor and employment practice when she becomes Co-Managing Director. She routinely advises employers on a wide range of labor and employment issues, including wage and hour issues, federal contractor compliance, protection of proprietary information, prevention of employment discrimination, retaliation, and harassment claims, and employee discipline and termination. She regularly defends employers in complex employment litigation matters involving non-competition agreements, discrimination and harassment claims, and intricate federal laws such as the Davis-Bacon Act, Fair Labor Standards Act, and the Medicare Secondary Payer Act. In matters relating to employee benefits, she concentrates on compliance issues confronting welfare benefit plans (such as medical, dental, and other plans) and their sponsors, including the provisions and impact of the Affordable Care Act.
Devon lives in Cary with her husband Andrew Jarvis. She and Andy are expecting their first child this summer.
About Ward and Smith, P.A.
Ward and Smith, P.A. is a full-service law firm with more than 90 attorneys working as a team from offices in Asheville, Greenville, New Bern, Raleigh, and Wilmington. For more information, visit us online at www.wardandsmith.com.