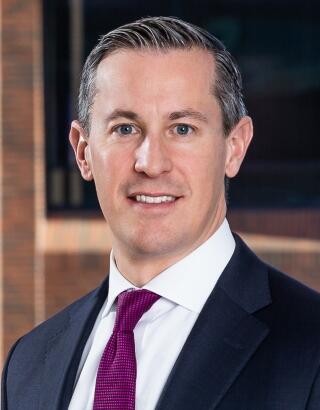 E. Bradley Evans
Co-Managing Director and Litigation Attorney
Brad is one of the firm's Managing Directors. His experience encompasses various areas of civil litigation in both the federal and state courts. He has experience in all aspects of civil litigation, including depositions, hearings, mediations, arbitrations, jury trials, and appeals. Brad advises clients and litigates cases involving all forms of commercial, business, estate, professional licensing, and intellectual property disputes. He regularly represents contractors, subcontractors, and suppliers in construction litigation in state and federal courts. He has litigated numerous matters concerning trade secret misappropriation and intellectual property infringement. He has handled numerous disputes for agribusiness entities, including corporate dissolution, contract, and antitrust disputes. Brad also has experience litigating corporate and partnership disputes before the North Carolina Business Court. He is a certified Superior Court mediator.
Prior to joining the firm, Brad was a Judicial Law Clerk for the Honorable Malcolm J. Howard, United States District Court Judge, United States District Court for the Eastern District of North Carolina.
Education
J.D., cum laude, Wake Forest School of Law, 2002. Order of the Coif,

Wake Forest Law Review

, Moot Court Marshal.
B.A., cum laude, Wake Forest University, 1998
Representative Experience
Local counsel in charge of real estate aspects of complex litigation between the owner of hydroelectric project and governmental entity over ownership of the project
Representation from trial court through the North Carolina Supreme Court of one of the largest fishing tournaments in the world in lawsuit by participants over eligibility for prizes
Representation of departing shareholder in multi-million dollar lawsuit in North Carolina Business Court over corporate management and interest valuations
Representation through jury trial and appeal of individual and business accused of misappropriation of trade secrets in "bet the business" litigation, resulting in complete dismissal of all claims
Representation of surviving spouses and estate beneficiaries in elective share proceedings involving multi-million dollar estates
Representation of large charitable organization named as multi-million dollar beneficiary of estate in lawsuit challenging the validity of the decedent's will
Representation of client at the trial court level and the Fourth Circuit Court of Appeals in case involving foreclosure of liens on intellectual property
Successful representation of clients in multiple cases tried to verdict involving claims under North Carolina's Unfair and Deceptive Trade Practices Act
Counselling of construction firms regarding antitrust issues in connection with joint ventures
Representation of shareholders in lawsuit in North Carolina Business Court involving the judicial dissolution and distribution of assets from farming corporation
Reported Decisions
Eastern Carolina Regional Housing Authority v. Lofton, 789 S.E.2d 449 (N.C. 2016)
Jackson v. Don Johnson Forestry, Inc., 830 S.E.2d 659 (N.C. App. 2019)
Hoag v. Cnty. of Pitt, 2020 WL 1685601 (N.C. App. 2020)
Summit Lodging, LLC v. Jones, Spitz, Moorhead, Baird & Albergotti, P.A., 627 S.E.2d 259 (N.C. Ct. App. 2006)
Modular Technologies, Inc. v. Modular Solutions, Inc., 646 S.E.2d 864 (N.C. Ct. App. 2007)
EHP Land Co. v. Bosher, 723 S.E.2d 174 (N.C. Ct. App. 2012)
Lianyungang Firstdart Tackle Co. v. DSM Dyneema B.V., 871 F.Supp.2d 482 (E.D.N.C. 2012)
Topp v. Big Rock Found., Inc., 726 S.E.2d 884 (N.C. Ct. App., 2012) rev'd per dissent, 736 S.E.2d 173 (N.C. 2013)
City of Clinton v. Global Constr., Inc., 734 S.E.2d 140 (N.C. Ct. App. 2012)
Jeffreys Leasing Co. v. Gillani, 2014 WL 47065 (N.C. Ct. App. 2014)
Flying Pigs, LLC v. RRAJ Franchising, LLC, 757 F.3d 177 (4th Cir. 2014)
North Carolina ex rel. North Carolina Dept. of Admin. v. Alcoa Power Generating, Inc., 2015 WL 5703520 (E.D.N.C. 2015)
Honors and Distinctions*
"The Best Lawyers in America," Best Lawyers®, 2016-2023
"Power List," Business North Carolina, 2021-2022
"Super Lawyer," Super Lawyers, 2016-2022
"Legal Elite," Business North Carolina, Antitrust, Hall of Fame, since 2018
"Legal Elite," Business North Carolina, 2009, 2011, 2013-2015, 2017
"Rising Star," North Carolina Super Lawyers, 2010-2012
Professional and Community Affiliations
American Bar Association — Sections: Antitrust Law; Litigation
Eastern North Carolina Inn of Court (president, 2015-2016)
Family Violence Program of Pitt County (past member; board member 2003-2010; treasurer 2007-2010)
Federal Bar Association for the Eastern District of North Carolina
Greenville-Pitt County Chamber of Commerce (Leadership Greenville Alumnus, Class of 2009)
Greenville Rotary Club (president 2010-2011)
Nature Conservancy of North Carolina
North Carolina Association of Defense Attorneys
North Carolina Bar Association Board of Governors
North Carolina Bar Association — Sections: Antitrust & Complex Business Disputes Law (section council; chair, 2015-2016); Construction Law (Board Liaison); Intellectual Property Law; Litigation
North Carolina Dispute Resolution Commission (Mediator Certification)
Admitted to Practice
North Carolina, 2002
All state courts in North Carolina
United States Court of Appeals for the Fourth Circuit
United States District Court for the Eastern, Middle, and Western Districts of North Carolina
United States Supreme Court
About Me
The best thing about Ward and Smith is the teamwork culture that allows attorneys to work together, unselfishly, for the benefit of our clients.
One surprising thing people don't know about me is that I played in a band in college.
There is no better place to live than eastern NC. I was born here and plan to be here for the rest of my life.
My favorite fictional character is Sherlock Holmes. He is the quintessential problem solver.
* Please see the following websites for an explanation of the membership standards for the following recognitions: www.bestlawyers.com; businessnc.com/special-sections/legal-elite/; and www.superlawyers.com/north-carolina.