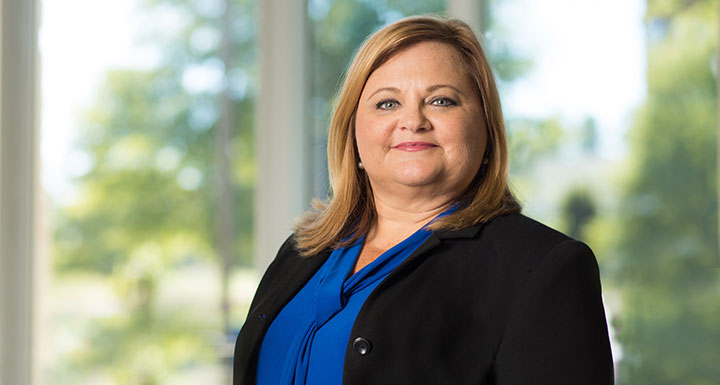 Julie Beavers, Ward and Smith, P.A.'s Director of Attorney Recruiting and Professional Development, has been appointed chair of the Transitioning Lawyers Commission of the North Carolina Bar Association (NCBA) for the 2017-2018 bar year. The commission is comprised of NCBA members who assist lawyers in working through the transition process of retirement, as well as succession planning and the sale of their practice. The commission's purpose is to provide education and support to lawyers as they wind down their active careers in the law. As more lawyers in the baby boomer generation approach an age where they may be considering retirement, it is essential to be proactive on succession planning and recognize the need for transitional support during this stage of their career. For additional information, visit the commission's website.
Beavers drives attorney recruitment efforts in support of the firm's current strategic initiatives and business goals with an emphasis on the successful transition of clients, referral relationships, and practice experience from one generation to the next. Additionally, she is responsible for expanding the firm's professional development learning programs and diversity efforts.

Throughout her 20+ year career in legal recruiting, Beavers has remained active in the legal community. She is a founding member and third term president of the Triangle Association of Legal Recruitment Administrators (TALRA), a city group of law firm recruitment professionals and law school professionals based in the Raleigh-Durham area. She also has held several national and regional leadership positions with the National Association of Legal Career Professionals (NALP), the organization that governs campus recruiting practices for accredited law schools in the US and Canada, and large private sector employers. Beavers regularly contributes to career development programs with various legal organizations including the NCBA.