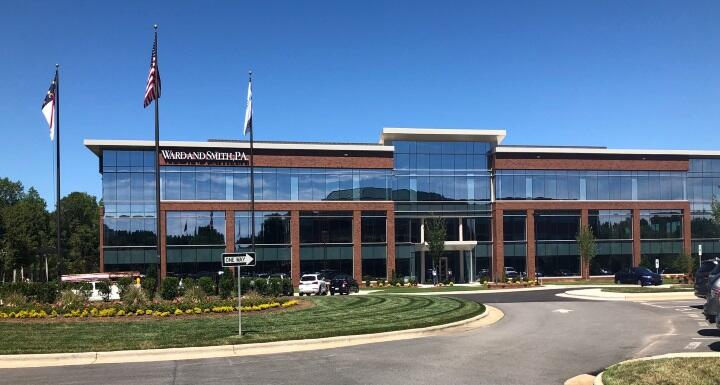 Ward and Smith's Raleigh office has moved into a new building to accommodate growth and future expansion.
Located at 751 Corporate Center Drive in Raleigh, the modern-looking office occupies the entire third floor. The 33,000 square-foot space nearly doubles the number of attorney offices, comes equipped with high-tech conference rooms, has expandable space to allow for larger work events and functions, and includes a training room for continuing education.
"This move represents an exciting time for us. We've had accelerated growth over the recent years, and we simply needed more room," according to the Firm's Chief Operating Officer Mike Epperson. "The new space allows us to continue hiring talented attorneys to help serve our clients effectively and efficiently."
The new complex is part of a larger office park built by Highwood Properties. The Corporate Center features another amenities including a fitness center, a café, picnic areas, bike storage and showers, and charging stations for electric cars.
Again, the new address is:
751 Corporate Center Drive, Suite 300
Raleigh, NC 27607
About Ward and Smith

Ward and Smith is a full-service law firm with more than 90 attorneys working as a team from five offices: Asheville, Greenville, New Bern, Raleigh, and Wilmington. The firm has experience advising, assisting, and representing businesses and individuals in more than 35 practice areas. The firm's goal is to provide exceptional service to clients. In order to focus on and respond to specific client needs, Ward and Smith's leadership developed teams in specific industries and fields of law as necessary to serve clients within various segments of the market.