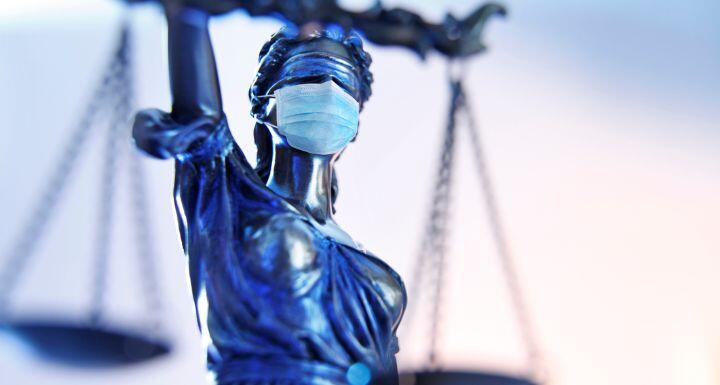 Several Ward and Smith attorneys shared legal updates related to the North Carolina Certificate of Need process, insights on professional licensing, and guidance on the dynamic landscape of employment law at a recent "Breakfast and Learn" for health care clients.
Michael Fields, a health care attorney who leads Ward and Smith's Health Care practice, initiated the discussion with an overview of the North Carolina Medicaid expansion and changes to the Certificate of Need law.
Medicaid Expansion and Certificate of Need in North Carolina
The Medicaid expansion will result in approximately 600,000 people having some form of insurance that formerly did not have insurance, once the budget for North Carolina for 2023-2024 is passed. Changes to the Certificate of Need law are a part of the legislation.
"North Carolina is one of the few remaining Certificate of Need states," noted Fields. "That means there are certain types of medical equipment and medical services that require the state to make a finding that there is a need for that additional service or piece of equipment."
The changes were essentially designed to chip away at the Certificate of Need ("CON") laws, so many are viewing it as a positive development. A few of the changes to CON laws include:
Requirement for CON for diagnostic centers increased from $1.5 million to $3 million for aggregate value of medical equipment
Eliminates need for CON for MRI scanners, within approximately three years

Only for practices in counties with over 125,000 people

Ambulatory surgery centers will be able to operate without CON

Will have to document that four percent of procedures are charity care
"This is positive because the CON requires a lot of expense and time, plus there's often a lot of competition for it," Fields explained.
North Carolina SAVE Act and Proposed Changes to HIPAA
The North Carolina SAVE Act is another recent development for health care providers to watch. If passed, it would enable Advanced Practice Registered Nurses (APRNs) to practice without physician supervision. "As you may imagine, the North Carolina Nurses Association is a proponent of this, while the North Carolina Medical Society opposes it," said Fields.
In conclusion, Fields outlined a number of proposed changes to HIPAA privacy rules, such as:
Mandated revision to Notice of Privacy Practices header
Reduces time to provide Protected Health Information when requested, from 30 days to 15 days
Changes to fees charged to patients requesting medical records
Requires covered entities to post fee schedules on website
North Carolina Medical Board and North Carolina Board of Nursing Hot Topics
Board Actions
Amy Fitzhugh, a professional licensing attorney who served as the first in-house counsel for the North Carolina Board of Nursing, shed light on potential causes of disciplinary action, issues from Covid, telemedicine flexibilities, nursing workforce issues, and more. "The number of complaints to the Medical Board increased significantly in 2022," explained Fitzhugh.
One of the top five causes of action from the North Carolina Medical Board was quality of care. Alcohol and substance use issues were the second leading cause of action. Other leading causes of adverse actions from the Medical Board included the following:
Reciprocal actions, i.e. when a licensee receives a disciplinary action in another state
Sexual misconduct and boundary violations
Prescribing of controlled substances
"Complaints of disruptive behavior with staff also increased significantly last year along with issues of substance use and licensee mental health," noted Fitzhugh. "In their 2022 Annual Report, the North Carolina Medical Board highlighted these increases as matching a national trend pointing to a clinical population in need of support."
Telemedicine and Prescribing
Telemedicine is here to stay and, at least for now, flexibilities in teleprescribing controlled substances remain. The restrictions in place before the COVID-19 public health emergency required a telemedicine provider to perform an in-person medical evaluation of a patient prior to prescribing a controlled substance (with certain limited exceptions). "The DEA and SAMSA recently issued a temporary rule that extends the teleprescribing flexibilities adopted during the Covid-19 public health emergency," advised Fitzhugh. The temporary rule, which will expire on November 11, 2023, allows telemedicine providers to prescribe controlled substances without the need for an in-person medical evaluation. Without the temporary rule extending the telemedicine flexibilities, those restrictions would have gone back into effect on May 12, 2023.
Practice and Scope Flexibilities
Legislative and Board waivers expired in December 2022 related to Quality Improvement meetings and corresponding documentation for advanced practice providers such as nurse practitioners and physician assistants. In January 2023, the North Carolina Board of Nursing announced it would resume the random compliance audits of nurse practitioners they had relaxed during the pandemic.
Nurse Licensure Notification
Fitzhugh highlighted Nursys® e-Notify, a tool offered by The National Council of State Boards of Nursing to institutions that want to receive free automated nurse license status updates. Institutions simply set up an account on the website, and they will receive updates on whether their employed RNs and LPNs/VNs licenses are expiring, have received public disciplinary action, or any updates from their licensing board.
Key Employment Law Issues in Health Care
Ward and Smith employment attorneys Will Oden and Avery Locklear provided insights on how to respond to charges from the Equal Employment Opportunity Commission ("EEOC"), restrictive covenants and non-compete agreements, the Pregnant Workers Fairness Act, and religious accommodations.
EEOC Charges
Oden emphasized the importance of having adequate documentation prior to terminating an employee, especially if that individual is in a protected category. "Having multiple witnesses versus one employee saying something does not always pass muster anymore," said Oden.
Employers seeking a 30-day extension of time to respond to complaints should be aware that the EEOC and the NC Department of Labor appear to be denying these extensions (or granter shorter extensions of time) more frequently. "If you get a complaint, a best practice is to start moving on it quickly," added Oden.
OSHA
Specifically in regard to the medical profession, Oden has noticed an uptick in NC Occupational Safety and Health ("OSHA") investigations. OSHA has hired additional investigators and audits are happening more often.
Providers should consider reaching out to NCDOL-OSH's Consultative Services Bureau, a separate arm that can help to identify possible issues. "They can find things that need to be tweaked or changed. It's informal, and the information doesn't get shared with anybody else in NCDOL-OSH. But if an auditor comes in later and finds something wrong, and Consultative Services previously said it was appropriate, that could help," advised Oden, "and it's a free process."
Anyone who receives a letter of complaint from the NC DOL-OSH office should provide a response as soon as possible. "Normally, you have 14 days to respond," said Oden, "but in order to avoid an unnecessary onsite investigation, the sooner you can respond, the better."
Non-Competes and Non-Solicitation
For a non-solicitation agreement to be enforceable, it has to include verbiage regarding material contact between a provider and a patient. The period of time related to the imposed restriction should also be reasonable.
"As you may know, the FTC recently proposed a rule to ban non-competes," commented Locklear. "It would also rescind non-competes with former employees."
For the purpose of the proposal, the FTC is defining workers very broadly, to include independent contractors, externs, and interns. "There's been a lot of pushback to this rule, and it's still a proposal," explained Locklear.
A policy or procedure that effectively functions as a non-compete will be void under the new rule. For example, "overly broad non-disclosure agreements will be perceived as a de facto non-compete," Locklear noted.
The courts have consistently held that cost-sharing provisions, which involve making employees pay a portion of their revenue for engaging in competitive activities, do not qualify as non-competes. Similar to other restrictive covenant agreements, the cost-sharing provisions must be reasonable to be enforceable.
Pregnant Workers Fairness Act and Accommodations
Another upcoming development is the Pregnant Workers Fairness Act, which became effective on June 27, 2023. It requires the employer to engage in an interactive process to provide a reasonable accommodation with either an employee or an applicant with no limitations associated with pregnancy and childbirth.
"What this means is that an employer cannot automatically require an employee to take paid or unpaid leave due to pregnancy. You have to engage in the interactive process," Locklear added. "An employer cannot require the employee to accept an accommodation other than the reasonable accommodation arrived at through the interactive process."
Employers with employees requesting an exception to Covid or flu vaccinations due to religious beliefs should tread cautiously, warned Locklear: "If the employer has an objective basis for questioning the sincerity of that belief, they can go into a very limited factual inquiry to decide if it is actually sincere."
Due to the tight labor market, employers are not holding employees accountable. Employers seeking to reverse this trend should ensure they are treating everyone equally. "Stay consistent with all the processes you do. It's paramount to document everything and provide everyone with equal treatment," concluded Locklear.
Conclusion
Ward and Smith offers the Business over Breakfast series on a periodic basis. To be invited to a future event, reach out to a Ward and Smith Health Care attorney.
--
© 2023 Ward and Smith, P.A. For further information regarding the issues described above, please contact Jane Francis Nowell or Leigh A. Wilkinson.
This article is not intended to give, and should not be relied upon for, legal advice in any particular circumstance or fact situation. No action should be taken in reliance upon the information contained in this article without obtaining the advice of an attorney.
We are your established legal network with offices in Asheville, Greenville, New Bern, Raleigh, and Wilmington, NC.