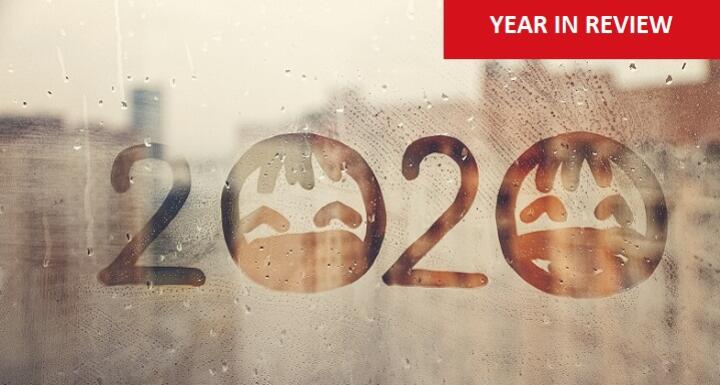 Over the past tumultuous year, Ward and Smith attorneys authored more than 190 articles to help our clients stay abreast of ever-changing COVID-19 impacts.
That quantity of writing is unprecedented, and led to an increase in visitors to our website. More people read an article in 2020 on wardandsmith.com than visited the site in any capacity in 2019 and 2018 combined. Our site produced 1.3 million unique pageviews, and we sent approximately 400,000 "client alert" emails with urgent and timely material.
It's important to us that we function as a stable and reliable source of legal information for our clients, and by the numbers, we served that purpose well.
Most of the top articles were related to Employment issues during the pandemic, or to the PPP program. However, our top piece of 2020 hit a little closer to home for many families. Authored by a panel of experts with an intro by attorney and Board Certified Specialist in Family Law Lauren Taylor Quinn, our most-read article offered Seven Guidelines for Parents Sharing Custody of Children During the Pandemic.
Top Employment articles include:
"Hold On, Help Is on the Way:" U.S. Senate Passes Second COVID-19 Relief Bill by Emily Massey, Will Oden, and Devon Williams
COVID-19 Update for Employers: New Key Guidance by Xavier Lightfoot and Hayley Wells
Are Health Care Providers Exempt from the FFCRA Paid Leave Requirements? by Emily Massey and Grant Osborne
Employers Required to Post Employee Rights Notice Under Families First Coronavirus Response Act by Hayley Wells
FFCRA Health Care Providers Exemption: New Guidance Published by Emily Massey and Grant Osborne
Contagion: Practical Advice for NC Employers in the Face of Coronavirus Disease by Grant Osborne
Top PPP Program articles include:
COVID-19 Relief Package to Include Small Business Loans by Joanne Badr Morgan
Enhanced Unemployment Assistance Under the CARES Act by Bill Durr
FAQ: Paycheck Protection Loans and Economic Injury Disaster Loans by Joanne Badr Morgan
PPP Loan Proceeds: Forgive, Pay and Forget it, or Not? by Bill Durr and Jamie Norment
If You File a Schedule C, Take Note: SBA Offers Guidance for Self-Employed PPP Loan Applicants by Joanne Badr Morgan
Other well-read articles include:
COVID-19 Eviction Moratoriums: Need-To-Know Information for NC Landlords and Tenants by Juliana Inman and Eric Remington
COVID-19 Cancelled My Event. What Now? by Chris Edwards
For Existing SBA Loans, the SBA Will Make Your Payments for Six Months by Lance Martin
North Carolina's Stay-At-Home Order: What Do You Need to Know? by Jamie Norment
HOA Boards and the Coronavirus by Adam Beaudoin
Governor Adds New COVID-19 Social Distancing Regulations for Retailers by Amy Wooten
While 2020 brought a volume of information that is not likely to be surpassed in 2021, we continue to provide legal insight to our clients and communities. Please join our email list for regular updates, and watch this space for ongoing news.
--
© 2023 Ward and Smith, P.A. For further information regarding the issues described above, please contact Laura V. Hudson.
This article is not intended to give, and should not be relied upon for, legal advice in any particular circumstance or fact situation. No action should be taken in reliance upon the information contained in this article without obtaining the advice of an attorney.
We are your established legal network with offices in Asheville, Greenville, New Bern, Raleigh, and Wilmington, NC.