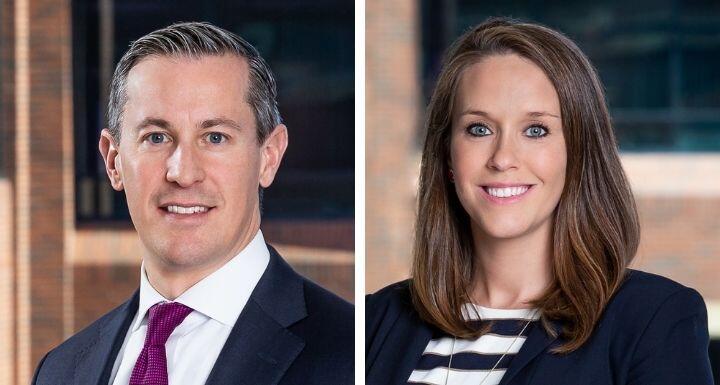 Ward and Smith's Co-Managing Directors, Brad Evans and Devon Williams, have been honored for their exceptional leadership and legal acumen by being named to the NC Lawyers Weekly Power List for Managing Partners to Watch.
This distinguished list comprises a select group of 20 esteemed legal professionals, as highlighted in a recently published special section of the publication. Each honoree is featured with a profile, exemplifying their outstanding contributions and achievements. Here are Brad and Devon's:
E. Bradley Evans

Co-Managing Director
Ward and Smith
Greenville, NC
Known for his ability to bring vision and clarity to his role as co-managing director at Ward and Smith, Brad Evans is skilled at taking grand ideas and making them a reality. He clearly articulates the firm's vision, bringing it to life by breaking it down into manageable steps, which he delegates to his staff to accomplish.
These efforts help him provide his team members with clear direction, ensuring that everyone is on the same page and working toward a common goal.
A leader in the legal profession, Evans was inducted into the American Board of Trial Advocates in 2023. He is a former president of the Eastern North Carolina Inn of Corut and serves on the North Carolina Bar Association Board of Governors.
Under his leadership and that of co-managing director Devon Williams, the firm, now with 100 attorneys, is poised for sustained growth. Through their leadership, the firm created a staff internship program in 2020 to build a pipeline for start positions and to enhance diversity.
Devon Williams

Co-Managing Director
Ward and Smith
Raleigh, NC
Devon Williams is celebrated at Ward and Smith for her ability to break down barriers and bring multiple generations together in the workplace. She understands that businesses need to adapt to the needs of their employees and is committed to creating a work environment where everyone feels valued and respected, regardless of their age or generation.
She helps deconstruct silos by encouraging multigenerational employees to work together on projects and teams, creating a more cohesive work environment.
Alongside the firm's co-managing director, Brad Evans, Williams created a successful staff internship program in 2020 to build a pipeline for staff positions and to enhance diversity.
In her employment law practice, Williams counsels human resources executives and C-suite officers, navigating them through state and federal requirements for employers to help them avoid costly litigation and improve workplace relations. As a member of the firm's Hemp Law practice group, she helps clients in the agribusiness, hemp and CBD industries navigate the complexities of labor and employment laws impacting their business.
To read more about this recognition, you can visit NC Lawyers Weekly website.