The head of Credit Suisse Raleigh is headling the final C-Suite Perspectives of the year.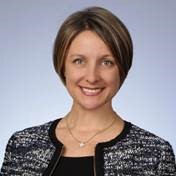 Sophia Wajnert will share her professional journey with Raleigh Chamber members on Friday, December 13 at The Umstead Hotel and Spa in Cary. The event, sponsored in part by Ward and Smith, starts at 7:30 a.m.
Sophia's career spans more than 20 years in HR leadership roles based in New York and her pivot to business leadership. In 2017, Credit Suisse announced it would add 1,200 jobs in RTP. This summer, the bank opened a new building in RTP as part of its $100 million campus expansion. The campus also has been recognized for its philanthropy and diverse and inclusive culture. Wajnert will discuss leadership strategies she has applied to foster the campus' continued and successful growth. There will also be a chance for attendees to ask her questions.
For more information about how to register, click here.