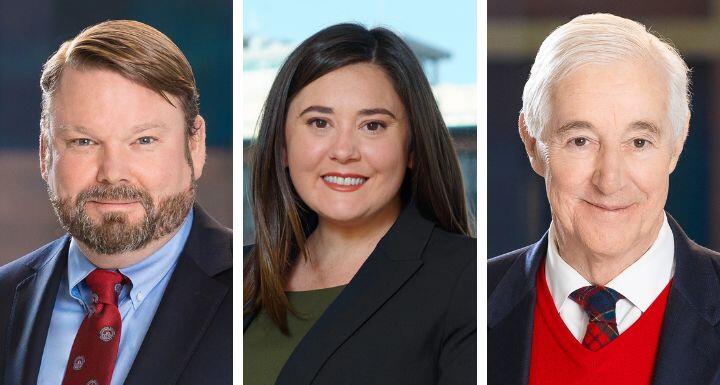 Ward and Smith is pleased to announce the addition of three new litigation attorneys with more than 60 years of combined legal experience.
Ellis Boyle, Melody King, and Joe Knott bring a wealth of knowledge in various areas of litigation, including business disputes, family law, personal injury and wrongful death, and general litigation matters.
These accomplished litigators join a deep bench at Ward and Smith that includes dozens of seasoned trial lawyers handling cases across North Carolina and beyond. The addition also bolsters the firm's ability to provide efficient dispute resolutions for individuals, businesses, and other entities.
"Our unwavering belief in providing the highest quality services for our clients has driven us to new heights," remarked Brad Evans, Ward and Smith's Co-Managing Director. "The recent addition of Ellis, Melody, and Joe strengthens this promise, ensuring that we continue to be a powerful advocate and trusted resource for our clients. We're thrilled to welcome them to our team."
Meet the New Attorneys
Ellis Boyle has multifaceted litigation practice, focusing on business disputes, personal injury claims, and general litigation matters. He represents businesses, individuals, and other entities in federal and state courts, and advises clients through all phases of the litigation process.
Ellis is based in the firm's Raleigh office.
Get in Touch with Ellis:
weboyle@wardandsmith.com
919.277.9187
Melody King's experience includes litigating family law cases relating to divorce, property division pursuant to North Carolina's equitable distribution statute, spousal support, child custody and child support, as well as negotiating Pre/Post-Marital Agreements and Separation and Property Settlement Agreements. She will also devote a portion of her practice to representing community associations.
Melody is licensed to practice law in North Carolina and Florida.
She is based in the firm's Asheville office.
Get in Touch with Melody:
mjking@wardandsmith.com
828.348.6014
Joe Knott has been a trial lawyer for more than 40 years.. He represents individuals injured by the negligence of others. Personal injury and medical malpractice comprise the majority of his practice. Almost all cases involving medical malpractice and personal injury pit individual people against the vast insurance industry and its legal teams. Mr. Knott counts it a privilege to represent the Davids against the Goliaths.
Joe is based in the firm's Raleigh office.
Get in Touch with Joe:
jtknott@wardandsmith.com
919.277.9178
About Ward and Smith, P.A.
Ward and Smith is a full-service law firm in North Carolina with offices in Asheville, Greenville, New Bern, Raleigh, and Wilmington. The firm has more than 100 attorneys knowledgeable in more than 35 practice areas, from agribusiness to zoning and land use.
For more information, visit https://www.wardandsmith.com/.