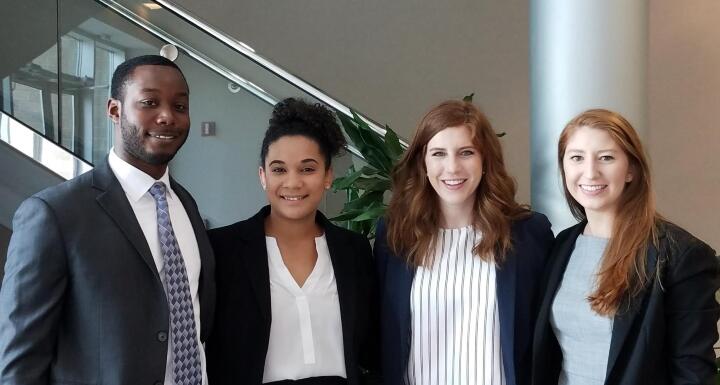 Ward and Smith welcomed four law school students as part of the firm's 2019 Summer Associate Program, and one is a familiar face.
Campbell Law School student Justin Hill returns to the firm this summer as a 2L. Last year, the firm met Justin through our partnership with the North Carolina Bar Association's Minorities in the Profession Committee ("MIP"). It marked the first time Ward and Smith hired a first-year law student for the firm's historically 2L Summer Associate Program.
Fellow second-year Campbell Law School students Madeline Lipe and Payton Collier, along with first-year UNC-Chapel Hill Law School student and MIP participant Tisha Martin join Justin for the six-week program, which runs through June 21.
"Ward and Smith's Summer Associate Program offers a wealth of tangible legal learning experience in a diverse and fast-paced environment," remarked Melissa Forshey Schwind, Director of Attorney Recruiting, Diversity and Inclusion. "In addition to the exposure to the legal profession, this program ensures that we continue to find and recruit the best attorneys to our firm."
Brad Evans, Ward and Smith's Co-Managing Director, echoed that sentiment adding, "We're proud of our tradition of mentoring and training up-and-coming attorneys, and we will draw upon this group's skills and talent to continue to deliver top-quality legal services to our clients. So we are excited about our summer class of 2019."
If you would like to apply for next year's Summer Associate Program, click here.