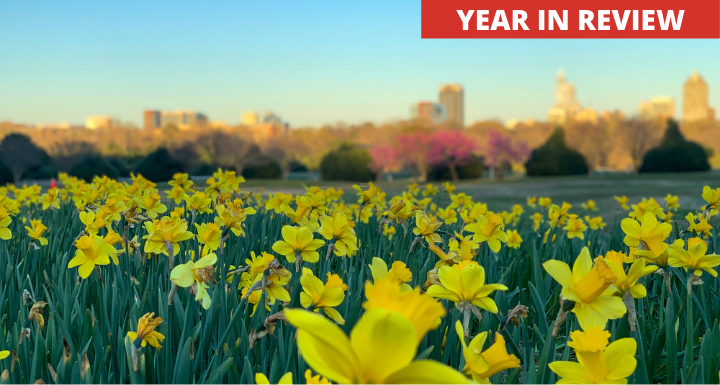 More than nine months ago, our community experienced a shut-down that was without equal, and we all began to fight a virus no one fully understood.
When we discussed putting together a "Year in Review" to tell the Ward and Smith story of 2020, we had mixed feelings about it.
On one hand, it was an absolutely dismal year. The pain we saw in our communities caused by economic hardship, closures, civil unrest, political divisions, fear, and illness was palpable and alienating. Our clients felt it in terms of their customers; their suppliers; their decision-making about employees, masks, reopening, and loans; and whether they were "essential" under the government's definition of essential businesses.
On the other hand, we witnessed an outpouring of teamwork, resilience, and support that lifted us all. At Ward and Smith, we've always said we were willing to go the extra mile for our clients. That was on full display in 2020. Our team, from our most senior attorneys to our newest staff members, has shown a strength, flexibility, and sense of togetherness that has been remarkable and steadfast during these long months of COVID. We are incredibly thankful for that.
One of our first actions in March was to convene a COVID-19 Task Force to keep our clients up-to-date on business and employment issues related to the unfolding pandemic. We were cautiously optimistic then, hoping it would be a fleeting yet surreal footnote of 2020. Unfortunately, it has endured much longer than we hoped. When we set up our Task Force, we had no idea it would produce thirty newsletters resulting in over 400,000 emails to our clients and friends.
Looking ahead, we are still facing fallout from the coronavirus. Admittedly, we continue to face uncertainty as long as this virus is with us. But Ward and Smith has always devoted itself to helping its clients navigate uncertainty. And if 2020 has taught us anything, it's that together, we can tackle all challenges yet to come. Our commitment to our clients, and to each other, will not waver. Let us know how we can help.
With best regards,
_______________________________________________
Our 2020 Year in Review Newsletter is available in PDF form. View it now on Issuu.