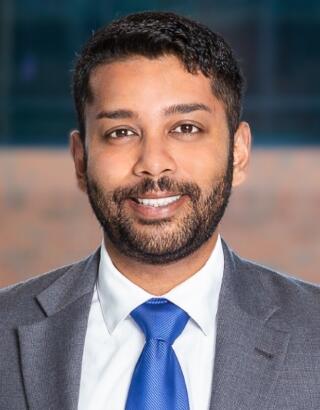 Mayukh Sircar
Cybersecurity, Data Privacy & Technology Attorney
Mayukh Sircar utilizes his keen insights and practical knowledge of privacy and data security law to help clients turn cybersecurity risks into manageable business opportunities. He advises businesses in various industries on developing privacy protection practices, such as the legal requirement and risks associated with the collection, storage, transfer, use, protection, and data disposal. He also counsels clients on structuring and operationalizing privacy compliance programs, data breach response and planning, contract and vendor management, and licensing and technology transactions.
Mayukh provides clients with comprehensive coverage of local, state, federal, and international laws governing privacy and data security, including the Health Insurance Portability Accountability Act (HIPAA), General Data Protection Regulation (GDPR), California Consumer Privacy Act (CCPA), and California Privacy Rights Act (CPRA).
Education
J.D., University of North Carolina School of Law, 2018
M.S. in Physiology and Biophysics, Georgetown University School of Medicine, 2013
B.S., University of North Carolina at Chapel Hill, 2010
Representative Experience
Mayukh's Privacy and Data Security experience includes:
Advise and counsel clients on data privacy requirements and compliance (e.g., GDPR, CCPA, HIPAA, US-legal compliance).
Prepare and negotiate data privacy and security agreements (e.g., data processing agreement, business associate agreements).
Develop new and update exisiting privacy policies, cookie policies, informed consent forms. and terms of use to comply with various data protection laws.
Mayukh's Technology experience includes:
Advise clients on and prepare licensing and service agreements (e.g., master services agreements, SaaS services agreements, professional services agreements, end user license agreements, end user services agreements, supply agreements, IP assignment agreements, terms of use, etc.).
Prepare various agreements to effectuate intellectual property transactions (e.g., licensing agreements; assignment of intellectual property).
Honors and Distinctions*
Publications:
The Tick Salivary Protein Sialostatin L2 Inhibits Caspase-1-Mediated Inflammation during Anaplasma phagocytophilum Infection. Authors: Chen G, Wang X, Severo MS, Sakhon OS, Sohail M, Brown LJ, Sircar M, Snyder GA, Sundberg EJ, Ulland TK, Olivier AK, Andersen JF, Guo-Ping Shi YZ, Sutterwala FS, Kotsyfakis M, and Pedra JHF. Infection and Immunity, 2014
Oncogenic PI3K mutations lead to NF-KB-dependent cytokine expression following growth factor deprivation. Authors: Hutti JE, Pfefferle AD, Russell SC, Sircar M, Perou CM, Baldwin AS. Cancer Research, 2012
Trafficking and proteolytic processing of RNF-13, a model PA-TM-RING family endosomal membrane ubiquitin ligase. Authors: Bocock JP, Carmicle S, Sircar M, Erickson AH. FEBS Journal, 2010
Isolation of monoclonal antibody fragments specific for Discoidin Domain Receptor-1 from a phage library. Poster presentation in the field of microbiology at Spring Science Festival National Cancer Institute – Fort Detrick, Frederick, Maryland, May 2007
Professional and Community Affiliations
Served as Student Attorney General of the Graduate and Professional Honor System while at the University of North Carolina ("UNC") School of Law
Pro bono volunteer for Southeast Asia Community Immigration Fair
Pro bono volunteer for the UNC Cancer Project
About Me
You hate to tell people that you stumbled into your profession, but in truth, I did. I am fortunate that I landed just where I belonged.
I started out planning to be a doctor, and did quite a bit of work towards becoming a medical practitioner. You will see my published studies on my bio because sometimes my clients enjoy "nerding" out with me on my research topics. But as time went on, I became really interested not only in the research itself, but how good ideas get into production, and the various licensing and tech agreements that bring those good ideas into fruition.
In a nutshell, I see developing, collaborating on, and sharing technology and data as key ingredients in our society's ability to turn good ideas into a better life for all. Now, I'm just doing my part!
* Please see the following websites for an explanation of the membership standards for the following recognitions: www.bestlawyers.com; businessnc.com/special-sections/legal-elite/; and www.superlawyers.com/north-carolina.