Mike McIntyre
Senior Advisor for Government Relations and Economic Development
For nearly 40 years, as an attorney, a public servant, and a business advisor, Mike has helped North Carolinians and businesses with government relations and economic development matters.
Almost half of Mike's career was spent in public service. He represented the Seventh Congressional District in the U.S. House of Representatives from 1997 to 2015.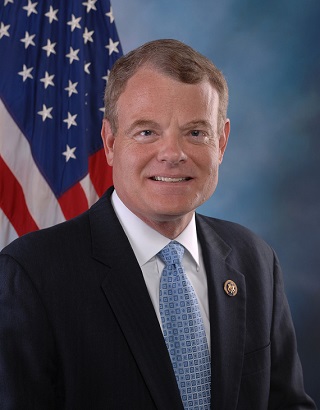 As a Congressman, Mike served as Chairman of the U.S. House Agriculture Subcommittee on Rural Development. He supported and developed policies promoting economic development and business opportunities in North Carolina. He has successfully championed the business and economic needs of counties and communities, as well as fire, police and EMS units, airports, schools, colleges and universities, hospitals, health clinics, senior centers, parks, and community facilities. Mike's hard work has earned him international, national, regional, and local recognitions and bipartisan respect for his leadership.
Mike brings that same level of dedication and commitment to his multifaceted legal practice. His professional experience encompasses business, energy, environmental, agribusiness, real estate, and sports and entertainment law. He also has extensive knowledge of complex coastal resource management and beach development matters. Being well-versed in the political process gives Mike a unique perspective to assist clients in governmental issues at the local, state, and federal levels.
Education
J.D., University of North Carolina, 1981
B.A., University of North Carolina, 1978

Representative Experience
In his government relations practice, Mike:
Assists clients in governmental matters for both the public and private sector on the federal, state, regional, and local levels; including matters related to the United States Congress, the Executive Branch, the Governor's office, the state legislature, the state Executive Branch, and state and federal agencies and departments
Coordinates with local governments on the regional, county, and local levels to promote, enhance, and secure positive relations with government agencies on behalf of clients
Works with coastal, rural, military, suburban, and urban communities to promote positive government relations and help obtain grants, loans, and other funds for items such as beach renourishment, infrastructure, education, medical facilities, water and sewer, parks and recreation, and other facilities
Works with the private sector to coordinate a positive relationship with government agencies, obtain resources to power both residential and commercial needs, grow business opportunities, expand job opportunities, and promote economic development
Mike's economic development practice focuses on:
Business, economic, and energy development for the public and private sector, including the procurement of incentives, grants, loans, and other funds, for causes such as beach renourishment for coastal communities, economic development for rural and military communities, and strategic assistance for suburban and urban growth
Job opportunity and workforce development, including education, health care facilities, water and sewer, sports, parks and recreation projects, and infrastructure, as well as energy and environmental concerns
Honors and Distinctions*
Mike McIntyre has been roundly honored for his service by boards, commissions, organizations, and schools. This is a select list of some of the major recognitions from throughout his distinguished career.
Public Service Recognition:
Doctor of Laws honorary degree awarded from the University of North Carolina at Chapel Hill "for outstanding accomplishment in public service," 2023
John B. McMillian Distinguished Service Award, the North Carolina State Bar's highest award, for demonstrating "exemplary service to the legal profession", 2021
Liberty Bell Award Recipient, awarded by the Young Lawyers Division of the North Carolina Bar Association for "strengthening our democracy and promoting civic engagement", 2020
"Lawyer of the Year," North Carolina Lawyers Weekly, 2019
Chief Justice I. Beverly Lake, Jr., Public Service Award, which "recognizes an outstanding lawyer who has performed exemplary public service," awarded by the North Carolina Bar Association, 2018
North Carolina Pro Bono Honor Society, NC Supreme Court, 2016
Order of the Long Leaf Pine, State of North Carolina, 2014
Distinguished Public Service Award, given by Secretary of the Navy as the US Navy's highest civilian award, 2013
North Carolina PTA, Honorary Life Membership
Doctor of Laws, Honorary Degree for Meritorious Public Service, University of North Carolina at Wilmington, 2004
Recognition in Economic Development:
International Public Policy Award for leadership in promoting jobs and workforce development, International Association of Personnel in Employment Security, 2002
National Leadership Award for Economic Development, National Association of Development Organizations, 2007
Five-time recipient of the Southern Economic Development Council's "Honor Roll"
North Carolina Association of Electric Cooperatives, Inc.'s "President's Award," 2015
North Carolina Employment Security, "Advancing Workforce Development" Award, 2002
North Carolina's Southeast / The Southeastern Partnership, Board of Directors, 2016-2019
Recognition in Agriculture and Agribusiness:
Recognition for Protection of Our Coastal and Environmental Concerns:
Recognition in Healthcare and Advocacy for Seniors:
Recognition for Military and Law Enforcement Advocacy:
All-American Hero Award, 2009 & 2013
National Legislator of the Year for Law Enforcement, State Troopers' Association, 2012
National Legislator of the Year for work on behalf of Veterans, National Association of County Veterans Services Officers, 2008
Military Officers Association of America, NC Chapter, Honorary Life Member
Charles Dick Medal of Merit, National Guard Association, 2000
Fleet Reserve Association, Honorary Membership
Recognition for Sports and Tourism Advocacy:
Early Recognition:
One of Five Outstanding Young North Carolinians of the Year, NC Jaycees, 1987
Professional and Community Affiliations
United States Congressman, 1997-2015

Agriculture Subcommittee on Rural Development, Biotechnology, Specialty Crops and Foreign Agriculture, Chairman, 2007, 2008
Armed Services Subcommittee on Terrorism, Vice Chairman, 2007, 2008; Subcommittee on Seapower and Projection Forces, Ranking Member, 2011-2015, Subcommittee on Tactical Air and Land Forces
U.S. Naval Academy Board, Member, 2001-2009
Co-Founder and Co-Chairman, Special Operations Forces Caucus, 2002-2015
Air Force Congressional Caucus, Co-Chairman, 2013-2015
Co-Founder & Co-Chairman, Friends of Scotland Congressional Caucus, 2006-2015
Co-Chairman, Congressional Caucus on the United Kingdom, 2010-2015
Co-Founder and Co-Chairman, Congressional Waterways Caucus; Co-Chairman, Congressional Boating Caucus
Founder and Chairman, Congressional Caucus on Youth Sports, 2005-2015
National Youth Sports Health & Safety Institute, Member of the Leadership Board, 2015 to present
Legislative Co-Chairman, Sports & Entertainment Law Section, North Carolina Bar Association, 2015 to present
McIntyre-Whichard Legal Fellows Mentorship Program, UNC Law, Founder and Alumni Co-Chairman, 2016 to present
North Carolina Economic Development Association, 2016 to present
McIntyre Youth Leadership Challenge Award, North Carolina Bar Association; Founder, 2016 to present
UNC Institute of Politics, Fellow, 2019 to present
North Carolina Beach, Inlet & Waterway Association, Board of Directors, 2016-2018
North Carolina Study Center, Board of Directors, 2015 to present; Vice-Chairman, 2020 to present
North Carolina Commission on Children & Youth, Charter Member, 1987-1989
North Carolina Commission on the Family, Charter Member, 1989-1991
Congressional Coordinator, Business and Economic Summit for North Carolina Chambers, 1997-2014
Lumberton Area Chamber of Commerce, Board of Directors, 1994-1996, Legislative Co-Chairman, 1992-1996
President, Lumberton Economic Advancement for Downtown, Inc., 1987
Co-Chairman, Congressional Prayer Caucus; Co-Chairman, Congressional Prayer Breakfast
First Presbyterian Church of Lumberton, Elder, Deacon
Admitted to Practice
North Carolina
Supreme Court of the United States
Fourth Circuit Court of Appeals
United States District Court for the Eastern and Middle Districts of North Carolina
About Me
Little known facts:
I competed in disco and beach music dance contests while in college and law school, complete with a three-piece white suit—John Travolta-style.
Also, I hold a black belt in taekwondo, was a player and coach for the Congressional basketball team, captain of the Congressional soccer team, co-chaired the Congressional golf tournament, and played on the Congressional baseball, football, and tennis teams.
* Please see the following websites for an explanation of the membership standards for the following recognitions: www.bestlawyers.com; businessnc.com/special-sections/legal-elite/; and www.superlawyers.com/north-carolina.