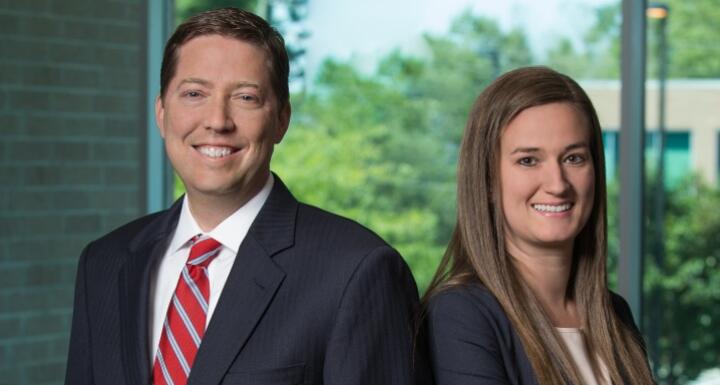 Tax and business attorney Richard Crow and family law and trusts and estates litigation attorney Paige Inman joined Ward and Smith on August 13, 2018. Both are resident in the Wilmington office.
"Richard and Paige are great additions to our firm," Ken Wooten, Ward and Smith's Co-Managing Director, declared. "Richard's significant business experience, coupled with his experience representing clients before state and federal tax authorities, bolsters the firm's business and tax practices. Paige is joining a seasoned family law practice and will be able to build our Wilmington brand in this area."
It's a homecoming for Crow, who left Ward and Smith to take a general counsel position with Castle Branch, Inc., one of the leading background screening and compliance management companies in the nation.
Crow's practice encompasses a broad range of business law matters, including mergers and acquisitions, tax planning, private securities offerings, and start-up businesses. He has extensive experience representing small and large companies on issues such as business structuring and organization, contract negotiation and drafting, corporate governance, and business succession planning. In addition, Crow assists companies and individuals with their tax planning needs and represents clients on tax disputes before the Internal Revenue Service, North Carolina Department of Revenue, and property tax authorities.
Crow is a graduate of the University of North Carolina at Chapel Hill. He received his J.D. from North Carolina Central University School of Law and his LL.M. in Tax from the University of Florida. He lives in Wilmington.
The addition of Paige Inman's practice strengthens the firm's ability to help families and individuals in the New Hanover region navigate through difficult family law and estate issues. Inman's practice focuses on a diverse range of family law and estate litigation, including divorce, alimony and spousal support, children's rights, domestic violence, estate disputes, paternity, and prenuptial agreements.
Inman is a Wilmington native who received her B.A. from the University of North Carolina at Chapel Hill. She graduated, cum laude, from Campbell University School of Law in 2012. During law school, Inman participated in the Richard A. Lord Moot Court Competition, was an editor for the university's Law Review, and was a member of the law fraternity, Phi Alpha Delta.