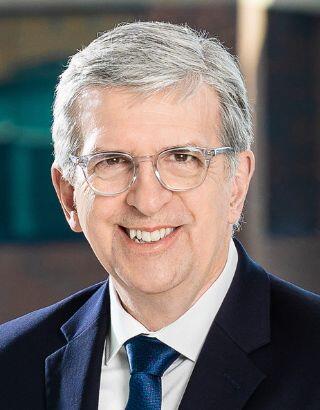 Arthur J. DeBaugh
North Carolina State Bar Certified Specialist in Trademark Law
Art is a highly experienced North Carolina State Bar Certified Specialist in Trademark Law, with over three decades of success advocating for clients' intellectual property rights. His background as an in-house counsel for Sara Lee Corporation gives him valuable insight into the business needs of corporate clients in all aspects of trademark law, from clearance, registration, and enforcement to dispute resolution and licensing.
Moreover, Art's extensive background includes an impressive portfolio with over 3,000 successful trademark applications in the U.S. across industries such as software, electronics, health care, marketing, consumer packaged goods, apparel/textile, retail, food & beverage, and higher education.
Clients can count on Art for sound guidance in bringing a product to the market, intellectual property protection policies and procedures, and confidentiality and non-disclosure agreements with employees, vendors, and outside contractors.
Art's services extend far beyond just protecting IP; he counsels on privacy matters, sweepstakes and contest rules, franchise issues, domain names, cybersquatting, and other internet issues.
Education
J.D., University of North Carolina School of Law, 1988; Sarah Graham Kenan Scholar; North Carolina Law Review, Research Editor
B.A., University of North Carolina at Chapel Hill, 1985; Morehead Merit Tuition Scholar; Phi Beta Kappa
Representative Experience
Developed a comprehensive intellectual property program, including corporate policies and procedures, for the U.S. subsidiary of a large international industrial machinery parts manufacturer.
Currently manages the global trademark portfolios for numerous businesses based in the U.S., as well as the U.S. trademark portfolios for numerous businesses based outside the U.S., including Fortune 500 companies, businesses with 50 or fewer employees, individual entrepreneurs, and most everything in between.
Successfully prosecuted and defended numerous trademark infringement cases brought in federal courts from Puerto Rico to North Carolina to New York, many of which resulted in coexistence agreements and settlement agreements favorable to Art's clients.
Designed and implemented an anti-counterfeiting program for a well-known luxury goods manufacturer.
Developed brand licensing and protection programs for clients, including a university and a municipality, amongst others.
Negotiated publishing agreements for several authors.
Assisted numerous clients with music copyright infringement allegations and negotiated licenses.
Honors and Distinctions*
The Best Lawyers in America, Best Lawyers, 2011-20224
World Trademark Review 1000, 2019-2021, 2023
"Super Lawyer," Intellectual Property, North Carolina Super Lawyers, 2020-2023
"Legal Elite," Business North Carolina, Intellectual Property Law, 2011-2023
Chambers USA, Intellectual Property, Copyright, and Trademark Law, 2012-2022
"Lawyer of the Year," Best Lawyers, 2020 and 2023
North Carolina State Bar Certified Specialist in Trademark Law
Professional and Community Affiliations
International Trademark Association, Trademark Administrators Committee
North Carolina Bar Association, Continuing Legal Education Advisory Committee, 2023-2024; Intellectual Property Section: Section Council
North Carolina State Bar, Board of Legal Specialization: Trademark Specialty Committee (2013-2020; chair 2019-2020)
Winston-Salem Symphony Board of Directors
5 WFDD Public Radio, Community Advisory Board
Former President, Augsburg Lutheran Church, Winston-Salem
About Me
I enjoy traveling, learning about different cultures, and meeting new people. So far, I've visited every continent except Antarctica, mostly on business, but my favorite trips have been with my family.
As an undergraduate English major, I concentrated largely on early 20th Century American novelists, so I am a fan of Faulkner, Hemingway, and Fitzgerald. My favorite novels are Absalom, Absalom! and The Great Gatsby, though I'm reading more and more Cormac McCarthy these days.
Building relationships is important to me. Having worked as in-house counsel for so many years, I appreciate working in partnership with other business leaders to bring products to market, enhance brand value, and collaborate on creative solutions. I work hard to make sure my clients understand that I'm here to help them look good and get their projects done successfully with a minimum of legal risk. And I love teaching and helping clients better understand trademarks and their protection.
* Please see the following websites for an explanation of the membership standards for the following recognitions: www.bestlawyers.com; businessnc.com/special-sections/legal-elite/; and www.superlawyers.com/north-carolina.
Highlights + Insights