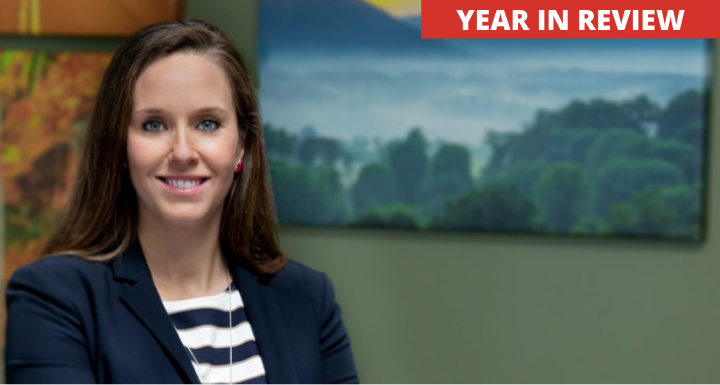 Devon Williams, a labor and employment attorney, assumed the role of Co-Managing Director of Ward and Smith on January 1, 2021, after shadowing Ken Wooten for the better part of 2020.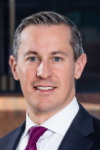 She leads the firm alongside Greenville-based litigator Brad Evans, who has served in this position since 2017. Most law firms have one Managing Partner, and Ward and Smith has always had two Co-Managing Directors. "We believe two heads are better than one," quipped Brad Evans.
Since joining the firm in 2012, Devon has held numerous leadership roles at Ward and Smith, including leading the firm's Labor and Employment Section and co-chairing the Raleigh Geographic Team. She's been recognized in industry publications such as Benchmark Litigation as a "Labor and Employment Star" in 2018 and 2019, and included on Business North Carolina's Legal Elite list for Employment in 2020.
"From the beginning, Devon has displayed strong leadership skills and exceptional talent. She's a true team player, a fierce competitor, and a person just as comfortable with the big picture analysis as she is with the daily needs of a demanding practice. That's why she is so widely respected by her clients, colleagues, and peers," said Brad. "It's not surprising that she was elected to this executive position by her peers within the firm. I look forward to working alongside her as we lead the firm into our next phase of growth and innovation."
Devon commented, "Business succession is an important topic for all closely-held businesses, and we're no different. I worked 'hand-in-hand' with Ken and Brad all year to prepare for this transition. It was invaluable for our firm's future and my development as a leader that I had the good fortune to train during a year like 2020. This experience has better prepared me for the job ahead, and I am confident we will be successful despite the challenges that we will encounter along the way."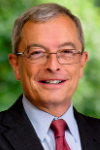 Ken retired from Ward and Smith at the end of 2020 after a forty-year career at the firm. He served as Co-Managing Director for more than 15 years, and led many of the key initiatives and expansions that built the firm into the place it is today.
Brad said, "Ken was a champion of our unique culture and identity, and had the strategic vision needed to implement the technology and staffing plans that have served our clients so well during this COVID crisis. His foresight and experience was vital to our team, and will be missed."
Ken plans to travel to our nation's most beautiful national parks in a new camper, and spend time with his wife Jane, and their children and grandchildren. After some well-deserved downtime, Ken plans to mediate commercial litigation matters.
In the firm's announcement of Devon's new role in May, she called it a privilege to serve with Brad and an honor to have Ken as a mentor. She noted, "Ward and Smith has a different business model, and it's a difference I am passionate about. Many law firms say they function as a team, but we actually do. Our model is different in that we have no originations, no sharp elbows, and are united around the vision that we do what is best for our clients."
She continued, "I'm grateful for and enthusiastic about the opportunity to build upon the legacy the firm has experienced under Ken's leadership while working in tandem with Brad to continue our efforts to innovate efficient legal solutions for our clients, and attract and retain top-tier talent."
Business North Carolina magazine spotlighted Devon in the July edition, and called the firm's decision to elect Devon "exciting," especially when "women in leadership positions remain a rarity" in a lot of industries, including the legal profession. From the article:
As a 34 year-old woman, Williams is a notable choice for co-managing director, the top position in the firm, alongside Greenville litigator Brad Evans. In 2019, the American Bar Association reported only 38% of attorneys are women, and even fewer hold firmwide leadership positions.

Potentially more surprising, Williams says, is the firm's decision to elect her in the midst of her pregnancy -- she and her husband are expecting their first child in July. "I was selected and voted-in while pregnant," she says. "To me it's just an example of how forward-thinking and open-minded we are."
Devon and her husband Andy Jarvis live in Cary, and welcomed their daughter this summer. She will continue with her active labor and employment practice, and may be reached at ddwilliams@wardandsmith.com.
--
© 2023 Ward and Smith, P.A.
This article is not intended to give, and should not be relied upon for, legal advice in any particular circumstance or fact situation. No action should be taken in reliance upon the information contained in this article without obtaining the advice of an attorney.
We are your established legal network with offices in Asheville, Greenville, New Bern, Raleigh, and Wilmington, NC.