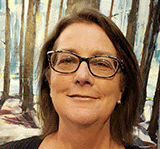 On August 9, 2021, our team suffered a terrible loss. Angela Nelson, an Accounting Support Specialist, passed away peacefully at her New Bern home.
"We are deeply saddened by the sudden loss of our dear friend and valued colleague. Angie was a hard worker and a great teammate. She and her positivity will be sorely missed. Our thoughts and prayers are with her family during this difficult time," stated Devon Williams, Ward and Smith's Co-Managing Director.
Angie had been with the firm since 2017.