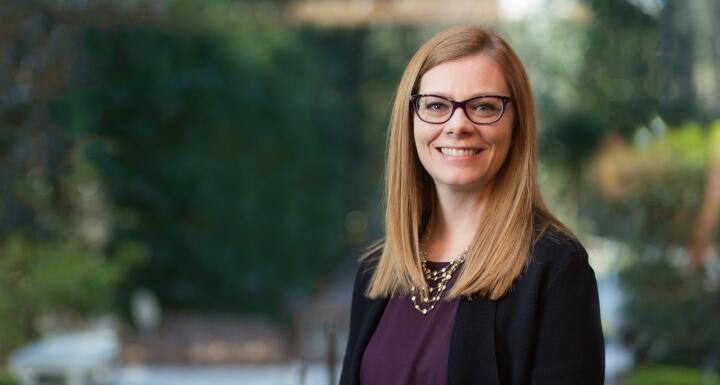 Privacy and intellectual property attorney Angela Doughty has been named the firm's first Director of Legal Innovation.
As a leader of the Ward and Smith Legal Lean Team, Doughty has been instrumental in the firm's efforts to improve efficiency, provide cost predictability, and streamline processes during the past 18 months.
"Angela has a natural tendency toward clarity and efficiency, and a background in operations and logistics. As an attorney and a leader in our firm, she has fully embraced the tenets of project management and process improvement," declared Ken Wooten, the firm's Co-Managing Director. "In her new position as both a practicing attorney and our Director of Legal Innovation, she will balance her client work and lead project teams within the firm to root out inefficiency and bring greater client value to our work."
The position of Director Legal Innovation is new to Ward and Smith, and is unusual among competitor mid-sized firms. As part of the firm's strategic plan, Ward and Smith has been upgrading operations professionals in the firm environment to "let the Directors direct." Doughty's role is the most recent in a string of hires over the last three years that show the firm is committed to offering differentiated and client-focused legal services.
Doughty earned her White Belt and Yellow Belt certifications in Legal Lean Sigma® and Project Management from the Legal Lean Sigma Institute, and is working on her Green Belt. She also maintains a vibrant intellectual property and privacy law practice. She served as leader of the intellectual property law section until recently stepping into the Director of Legal Process Management role.
In her new position, Doughty will continue to oversee the implementation of process management strategies firm-wide. She will work with the firm's management, directors, section leaders, attorneys, and staff to guide the firm through process improvement, design methodologies, and innovative technology.
Doughty holds an MBA and a J.D. from Campbell University, and a B.S. in Business Management, with a concentration in operations and logistics, from North Carolina State University. She is a Certified Information Privacy Professional – United States (CIPP/US), and a North Carolina Board Certified Specialist in Trademark Law. She currently serves as the North Carolina Bar Association IP Law Section Chair, and has been recognized nationally and internationally for her intellectual property practice. Most recently, she was named a "Global IP Star" by Managing Intellectual Property Magazine, recognized in North Carolina Super Lawyers Magazine, ranked in the World Trademark Review 1000, and honored by Business North Carolina for being a "Legal Elite."
About Ward and Smith
Ward and Smith is a full-service law firm with more than 90 attorneys serving businesses and individuals from offices in Asheville, Greenville, New Bern, Raleigh, and Wilmington.