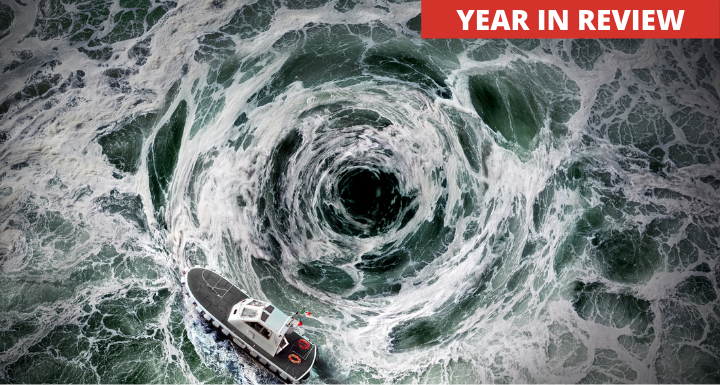 We've weathered literal storms, such as Hurricane Florence, but nothing quite like the speed and scope of the coronavirus pandemic.
Through it all, we have been honored to help our clients, businesses, and communities navigate these treacherous waters.
Leadership that Counts
Serving on a board is one of the many ways Ward and Smith attorneys have become an integral part of solving problems and leading entities out of choppy seas. Several attorneys were newly-elected or appointed to a board of directors in 2020.
Most notably, attorney Hugh Overholt was reappointed to the North Carolina Board of Transportation in September. In the past, Hugh has been appointed to the Board of Transportation by Democratic and Republican governors, specifically Governors Bev Perdue, Pat McCrory, and Roy Cooper, and now by Speaker Tim Moore. Hugh has served on the board since 2009, and has helped meet transportation needs across the state.
Other attorneys newly-elected to a board of directors in 2020 include:
Insightful Views
Ward and Smith's efforts to help clients, individuals, and businesses through these uncertain times extended beyond the boardroom. In 2020, our attorneys were routinely featured in news magazines, blogs, and podcasts, often diving deeper into complex, hot topic issues. Surprisingly, not everything was COVID-related.
For example, attorney Allen Trask appeared on an episode of the "Objection to the Form" podcast to discuss the legality of hemp, how hemp products are tested, and CBD.
Labor and employment attorney Grant Osborne talked about the profound challenges of employers regulating free speech in the workplace on the "Legal Talk Today" podcast.
Amy Wooten, a litigator in the Raleigh office, encouraged attorneys not to be afraid to make a change in a pandemic during an interview with NC Lawyers Weekly.
Attorney Ken Bart partnered with Ward and Smith Business Consulting's Hank Harris for a Q&A featured in the Wilmington Business Journal. The duo gave businesses valuable insights on strategizing for a post-pandemic environment.
Additionally, Xavier Lightfoot and Devon Williams tackled the landmark ruling in the Bostock v. Clayton County, Georgia case in the August issue of Business North Carolina.
And back in May, creditors' rights attorney Lance Martin was interviewed by Fortune.com about a new bankruptcy law that could prove to be a big help for small businesses.
Done Deal
Despite the disruptiveness, the pandemic may have changed how we do business, but not our commitment to helping our clients get where they need to go.
In March, during the state's stay-at-home-orders, Ward and Smith attorneys worked with client Transportation Impact to close a deal with The Jordan Company as its new equity partner. Read more.
Additionally, in April, Ward and Smith's Community Associations attorneys successfully defended a Wilmington area Community Association in the North Carolina Court of Appeals. Read more.
And in September, Personal injury attorney Charles Ellis secured a $3.04 million verdict for a North Carolina man injured in a tractor-trailer collision in Pennsylvania. The trial was held virtually "in which the judge, attorneys, parties, and witnesses were all scattered along the east coast." Read more.
Take Notice
We don't do what we do for the accolades, but we are grateful and honored by the recognition from our clients and peers.
The firm has been named a "Best Law Firm" by Best Lawyers, and recognized as a "Recommended" firm for Dispute Resolutions and Labor and Employment work by Benchmark Litigation.
Additionally, in 2020, we had:
And we were thrilled when Ward and Smith's PPP Loan Forgiveness Maximizer won second place in the Southeast Region's Legal Marketing Association "Your Honor Awards." The firm was named runner up in the "Innovative Use of Software, Technology, and Other Platforms" category, and was up against firms more than ten times our size.
Looking Forward
Although 2020 was a very challenging year for all of us, we have faith that our clients, communities, and regions will rebound from this experience, stronger and more united than before. We look forward to continuing to work by your side as we navigate what's to come in the New Year.
--
© 2023 Ward and Smith, P.A. For further information regarding the issues described above, please contact Lynwood P. Evans.
This article is not intended to give, and should not be relied upon for, legal advice in any particular circumstance or fact situation. No action should be taken in reliance upon the information contained in this article without obtaining the advice of an attorney.
We are your established legal network with offices in Asheville, Greenville, New Bern, Raleigh, and Wilmington, NC.